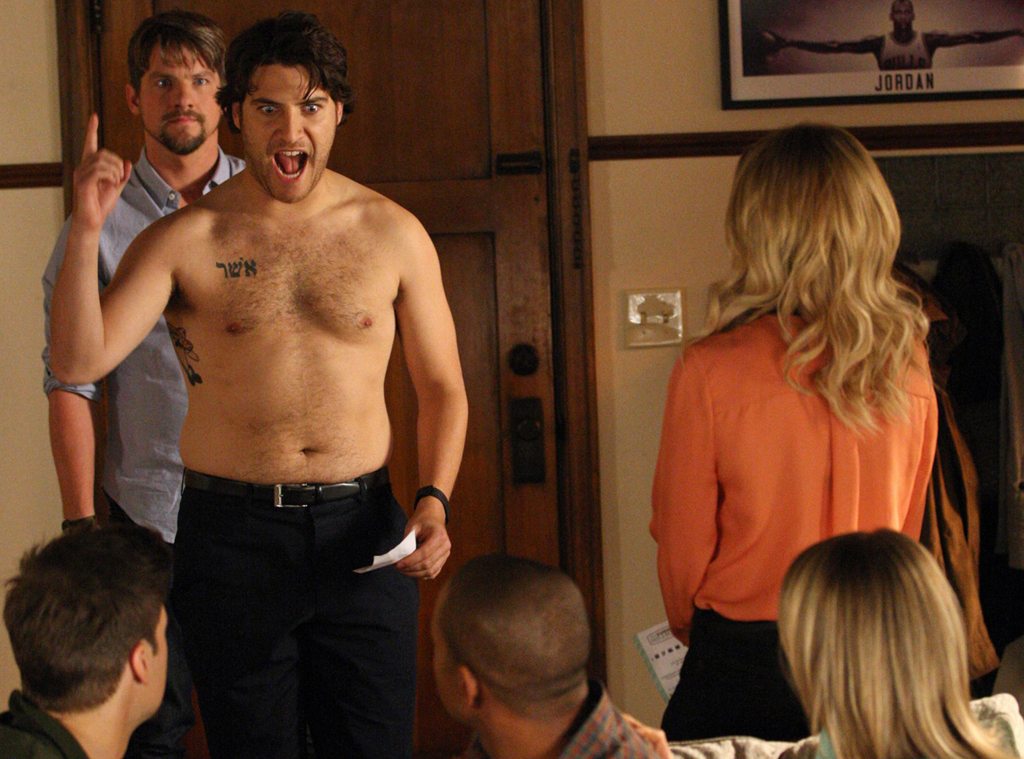 ABC/CAROL KAELSON
There's a Twitter mystery afoot, and it's making us lose our freakin' minds.                                                                                         
Just for some background, there was a show called Happy Endings that ran for three seasons from 2011 to 2013 on ABC, starring Damon Wayans Jr., Eliza Coupe, Adam Pally, Elisha Cuthbert, Casey Wilson, and Zachary Knighton. It was the best show. It was our favorite show. When it was canceled, we cried buckets. We haven't shut up about it since. That cancellation was, we felt, a great crime that had been committed against us, and our world would forever be a lot less happy.  
Until now, perhaps?
Yesterday afternoon, @happywrites, the official Twitter account of the Happy Endings writers, tweeted this: 
They then promptly followed Amazon, Netflix, and Yahoo Screen.
A rep for Netflix tells us Happy Endings isn't getting a pick up there. We are waiting back for word from Amazon and Yahoo.
The link they tweeted leads to a page that reads: "It's almost a new day," followed by a countdown.
Now, before you totally freak out with unbelievable excitement, the countdown ends at exactly midnight, Chicago time, on April Fool's Day, even accounting for Daylight Savings on March 8th. So of course, this could all be a very cruel joke. But the tweet isn't the only occurrence that has made us wonder.
Both Adam Pally and Damon Wayans Jr. are have left or are leaving their current shows (The Mindy Project and New Girl, respectively) with little explanation but a lot of fanfare. 
Eliza Coupe's USA show Benched has already been canceled, which is unfortunate, because it was a funny show, but honestly a Happy Endings revival might make up for any other injustices we might have suffered, TV-wise, over the past couple of years.
As for the other three cast members, Casey Wilson is on NBC's Marry Me, which hasn't yet been renewed or canceled, but either one is a possibility. Ratings this first season have been all over the place, never steadily falling or rising. The past three episodes, however, have only hit highs of 2.06 to 2.26 million when average viewers have been around 4 million, so it's hard to say at this point.
Elisha Cuthbert's Ellen Degeneres-produced One Big Happy doesn't premiere on NBC until March 17th, and Zachary Knighton's show Weird Loners doesn't debut on Fox until March 31st, so we'll have to wait to find out if those shows do well.
If this is all true, this won't be the first time a show's revival has been first hinted at on Twitter. Last October, Twin Peaks creators David Lynch and Mark Frost tweeted the exact same cryptic Twin Peaks quote at the exact same time, and it was eventually revealed that the show would be returning on Showtime for thirteen episodes in 2016, 25 years after it had gone off the air, proving that miracles do happen.
If this amah-zing miracle happens, we'll never ask for anything ever again.