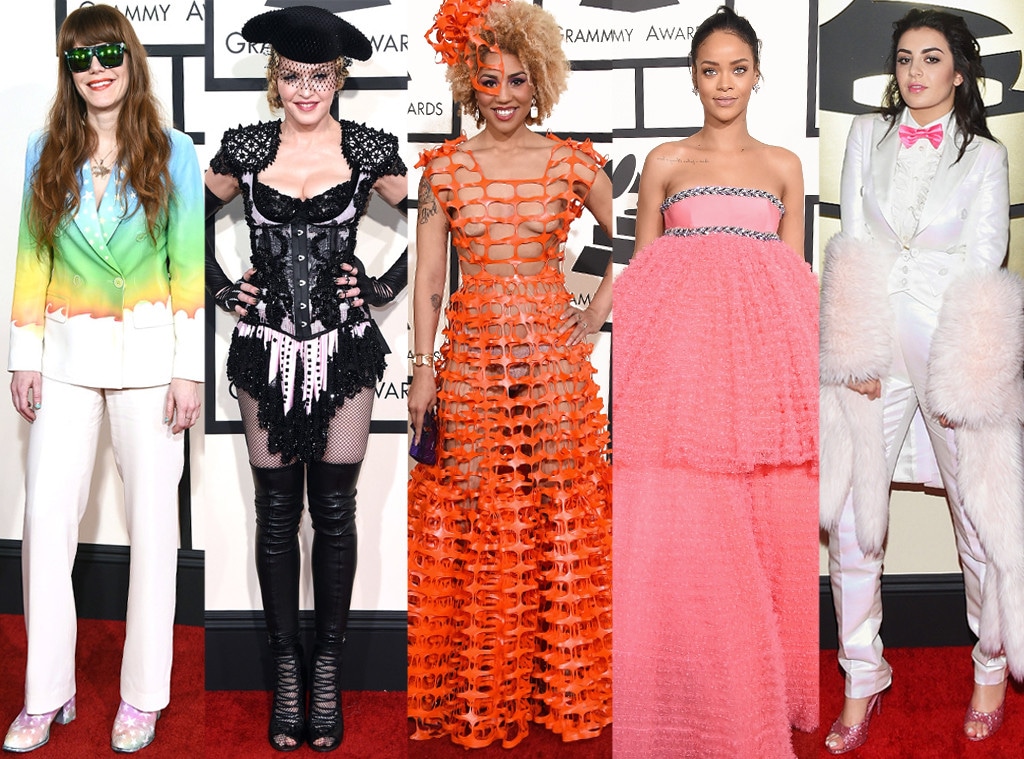 Getty Images/AP
Well ladies, it's time to face the music.
The 2015 Grammys red carpet had no shortage of eccentric, daresay horrendous outfits, so let's not waste time. Madonna put everything on display in matador-inspired Givenchy design, complete with a veiled topper and thigh-high boots. Oh, and needless to say the pop star could've used a bit more fabric on the bum. And let's not forget about Charli XCX, who looked back to Party Down for some caterer-chic style inspiration with her iridescent white Moschino suit.
Rihanna made a big entrance (literally) in a frothy Giambattista Valli Couture cupcake gown hot off the Paris Haute Couture runway. Note: RiRi's problem usually isn't an excess amount of fabric, and we're pleased the singer didn't arrive nearly nude. The same cannot be said for Joy Villa, however, who wrapped up in a traffic-orange mesh dress and nothing else. Yikes!
As for Jenny Lewis—where did she think she was going? This groovy multicolored pantsuit may work for a disco bash, but at the Grammys it's totally out of place.
And don't think we're done yet—check out even more worst dressed stars at the 2015 Grammy Awards below!