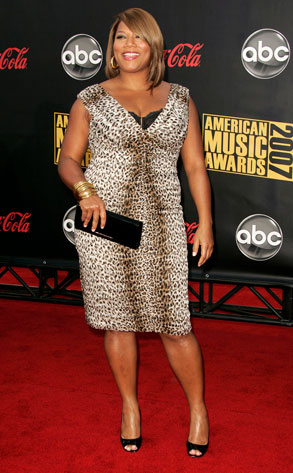 Lisa O'Connor/ZUMAPress.com
Queen Latifah's possible engagement to rumored girlfriend of four years Jeanette Jenkins is the hottest ticket in town.
No, folks aren't angling for an invite to the ceremony, they're falling all over themselves to break the coming-out news.
MediaTakeOut.com is just one of the sites claiming ownership of the story: "...We can tell you that we're 100% sure on this one. And we can also tell you that ABSOLUTELY NO ONE in the media (no magazines, no bloggers, no TV stations, no radio personalities - NO ONE) else is reporting this story right now."
But the New York Post also wants in on the action, posting a blind item on Monday that asked: "WHICH big Hollywood actress is about to come out of the closet? She's been living with her girlfriend in a small town, where all the neighbors know, and the two are now engaged to be married."
That was picked up by Perez Hilton—fittingly, the self-proclaimed Queen of All Media—with the header "Not So Blind Item" accompanied by a photo of the Queen and her, uh, queen.
Hey, Latifah, mazel tov if the nuptials news is true. But either way, may we suggest you register—stat!—to take advantage of all the attention this story is getting? Just imagine the toasters you could score!