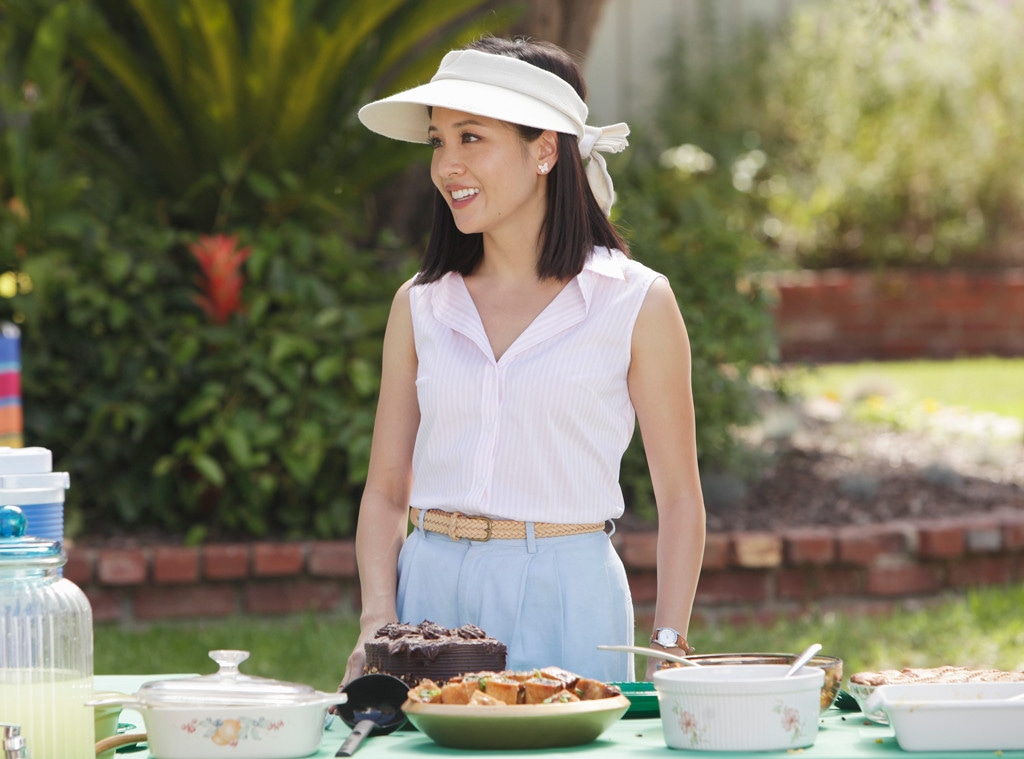 ABC
 "Did the show make you pee your pants? Me, too. I'm doing it right now."
This is the first thing Constance Wu said to me while sitting down to talk about her new ABC comedy, Fresh Off the Boat, which premieres tonight.
And you know what? If you do ever meet the actress face to face, you might want to bring a light-to-medium flow pair of Depends. She is the number one reason to watch this show tonight, and arguably deserves to be one of the biggest breakout stars of the season. As the take-no-prisoners, hard-edged mother to three boys, Constance delivers a consistent stream of comedy gold. Her facial expressions. Her physicality. Her humanness. Her slightly terrible karaoke. It's all on point.  
Fresh Off the Boat—which is really the first mainstream primetime comedy with an all-Asian cast about an Asian family—has faced more controversy before it even aired than most sitcoms do their entire run. The guy who wrote the autobiographical book the show is based on, Eddie Huang, penned a long piece in New York Magazine about finding most of the first episode frustrating and ridiculous (though he flipped it around to be cautiously supportive at the end).
And while filming the show's first season, star Randall Park (who pays Wu's husband on the show, the patriarch of the family) was dealing with the tail end of the terrorist threat over the movie in which he played Korean dictator Kim Jong-un: The Interview.
"It blindsided me," Park told me. "I was not expecting any of that. I knew that the film was provocative subject matter, but really…And it got the craziest when we were shooting the final episode of our show."
When Wu insists he handled it well, Park shot back: "In my trailer, I was crying, just crying. It was crazy, it was insane. But I'm glad the dust has settled on that."
Watch:
"Fresh Off the Boat" Stars Talk Show's Big Pick-Up
It's unfortunate Fresh Off the Boat has had to deal with so much unnecessary noise leading up to its premiere, because at its root, the show is sweet and although far from perfect, really finding its groove in the later episodes, with some very funny, laugh-out-loud moments.
The question, of course, is whether anyone will watch. The timeslot—between The Middle and Modern Family—is promising, given the solidity of ABC's Wednesday night lineup. But Constance and Randall joke that they are deeply skeptical a single person will tune in. Fresh Off the Boat has seemed, to them, like a pipe dream from the start, as the first network comedy featuring an all-Asian cast.
 "I remember when I first heard about the project before it even was going to be made into a pilot," Randall tells me.  "I was like, really,  they're going to try to make one of those?  Well, that's amazing. It probably won't happen, but that's great. And then, they were making it, and it was mind-blowing."
"And now, supposedly, it's going to air," Constance deadpans. "But we don't expect ANYONE to watch it."
Prove them wrong tonight at 8:30 on ABC and come join our Constance Wu Is Everything club.