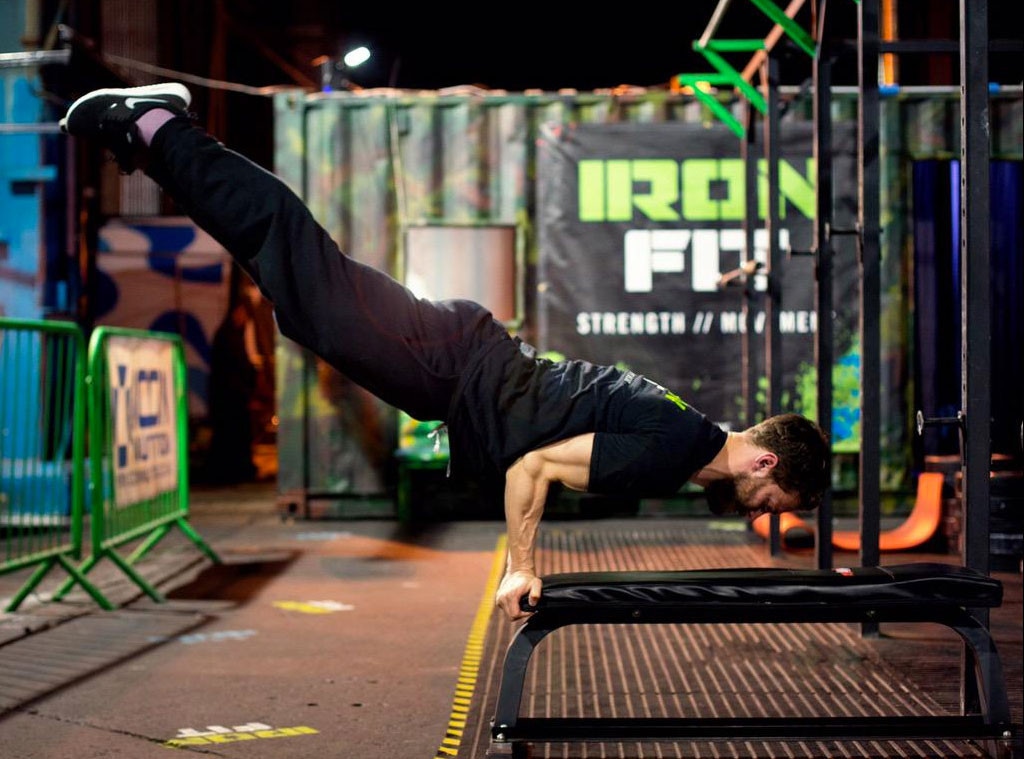 Twitter, Iron Fit
While Jamie Dornan may have wrapped Fifty Shades of Grey filming nearly a year ago, it seems that the 32-year-old stud is intent on keeping his Christian Grey physique ahead of the release of the film. 
The Northern Irish actor took to Twitter on Tuesday to share a pic from his very impressive workout sesh, in which he's casually flaunting her bulging biceps while striking a pose that shows off his insane upper body strength. 
Perhaps it's his iron man version of a plank? Either way, we're swooning. 
"With the boys @Iron_fit down @T13 . Gave them 2 seconds to take this picture before I collapsed & cried . #ironfit," the Fifty Shades hottie captioned the pic. 
So, how did the father of one get in shape for the risqué role? By hitting the gym hard (in the book, the gray-eyed Grey is described as a "Greek god" with "broad shoulders and narrow hips" whose "abdominal muscles ripple as he walks"). 
"He's pretty obsessive about staying in shape and exercise. It's a big part of who he is. So we had to work on that," the actor previously told Details of his character. "But, you know, I came into the game quite late with it, so I probably would have liked a little more time to sort of get in peak shape but we did what we could do with the time we had."
For the record, we think you look great, Dornan. 
When he's not busy showing off his bangin' bod, the father of one has been busy preparing for the release of the highly anticipated film, based on the best-selling BDSM trilogy by E.L. James. 
"Some of the Red Room stuff was uncomfortable," he recently told Glamour of the R-rated sex scenes in the infamous Fifty Shades red room. "There were times when Dakota was not wearing much, and I had to do stuff to her that I'd never choose to do to a woman." 
Likewise, Johnson added, "It's stressful enough to be tied to a bed naked in a scene. But then they call cut, and you're still tied to the bed, naked. Jamie would be the first one to throw a blanket over me." 
Fifty Shades of Grey hits theaters February 13.