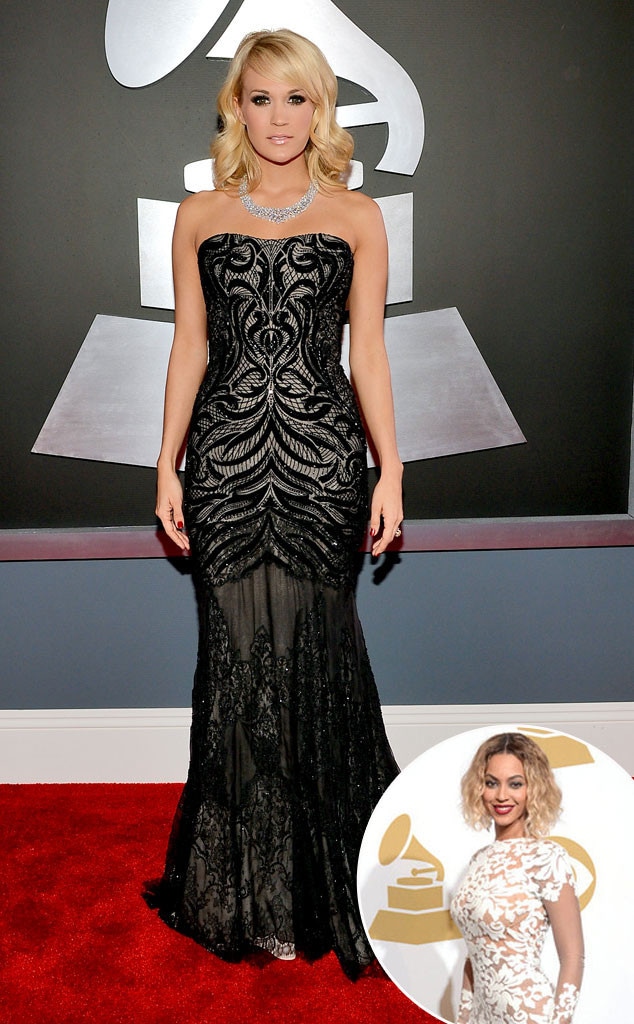 Getty Images
Confirmed: Even Carrie Underwood (like the rest of us mere mortals) gets jealous of Beyoncé's Grammys style!
"I can't help but always be envious in the best way of whatever Beyoncé is wearing," Carrie gushed exclusively to E! News. "What she wears on stage especially. Whatever she's going to have on stage is gonna make all of us feel like we need to go to the gym immediately!"
Well, it seems Carrie's again thinking exactly the same thing as the rest of us! The Almay ambassador (and face of the brand's latest Simply American campaign) has always maintained an impeccable figure, but in light of her pregnancy has admitted to missing her slimmer silhouette. And while Carrie—who's up for two Grammy nods this year—is eager to see the 2015 Grammy Awards red carpet, she'll be experiencing the show from a different seat this year.
"I wish I could go to the Grammys, but travel's kind of out for me at this point. It's tempting, but I can't fly that far away this late in my pregnancy," she admitted. "I'll be in my pajamas watching it from the comfort of my couch."
But hey, who's to say Carrie can't still be best-dressed perched in the comfort of her own home?
"You know, I should just get all dressed up anyways. I should get my hair and makeup done, and get a dress and watch it from my couch all dressed up like I'm there!" she joked.
And clearly, Carrie knows a thing or two about looking red carpet ready. The 31-year-old's radiant skin is undeniable, and she's never had a bad beauty day. As for the secrets behind her beauty routine? There's nothing complicated about it.
"Being able to work with Almay has definitely helped my beauty routine become simpler," Carrie said. "I've always been a fan of Almay, but now I use a lot of Almay products and that's just made my beauty routine less complicated."
For Carrie, keeping it simple is key. Along with the basics (i.e. making time for sleep and staying hydrated), the six-time Grammy winner's best beauty advice is to stay stick with old fashion face washing and moisturizing, and not to waste time going all out with makeup every day. After all, she may be a country star, but girl's still got everyday chores to do!
"I'm still a normal person!" she said. "I still have to go to the store and buy groceries and clean the house and take my dogs for walks and things like that. I want those parts of my life like my beauty routine to be simple. They don't need to be complicated, so why take that time I could be using to really get lots of stuff done messing with my makeup?"