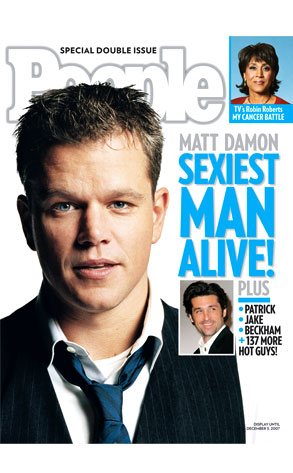 People Magazine
People has given the year's most prestigious honor of "Sexiest Man Alive" to Matt Damon in the issue on sale this Friday.
Yes! This means Clooney (Sexiest Man '97 and '06) will finally stop pimping him out, as he readily admits in a letter to the mag.
Ditto for best buddy Ben Affleck (Sexiest Man '02), who says Matt "holds this most dear." (Get all the deets in our news story.)
We definitely think Damon is adorable in a let's-go-to-a-Red-Sox-game-together sort of way. But sexy? We weren't so sure.
That is, until we read the letter he sent back to the mag declining the offer. He opted to pass on the title because "it would mean some extra unwanted attention on my little ones," and "I just don't think I'd be much fun."
Awww, our hearts are melting. He closes with, "I can't thank you enough. You gave an aging suburban dad the ego boost of a lifetime."
And with that, we are officially won over. Matt is the sexiest man ever!
What do you think? Did Damon's humility and humor sell you, or are you still holding out for a shirtless picture of Becks? Cast your vote below...