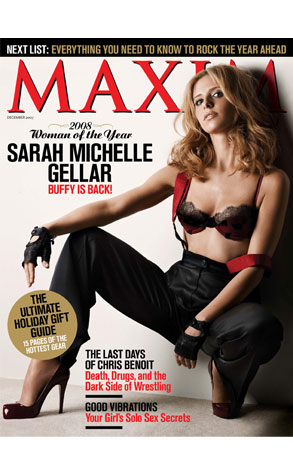 Maxim Magazine
We agree with Maxim editors (who named SMG their Woman of the Year), the former Buffy star is looking fine...despite the magazine's efforts to make her look ultracheesy on its December cover.
Fingerless gloves and red suspenders? Who styled this photo shoot, a time-traveling Madonna circa 1984? Karl Lagerfeld? Gallagher? (Kids, ask your parents.)
Then again, the actress, who plays a porn star in the upcoming Southland Tales, does admit to staying out all night partying to Naughty by Nature (again, ask your parents). So, maybe it's not magazine staffers who are stuck in the past.
What do you think of SMG's cover-girl look? Love it or hate it, vote below!