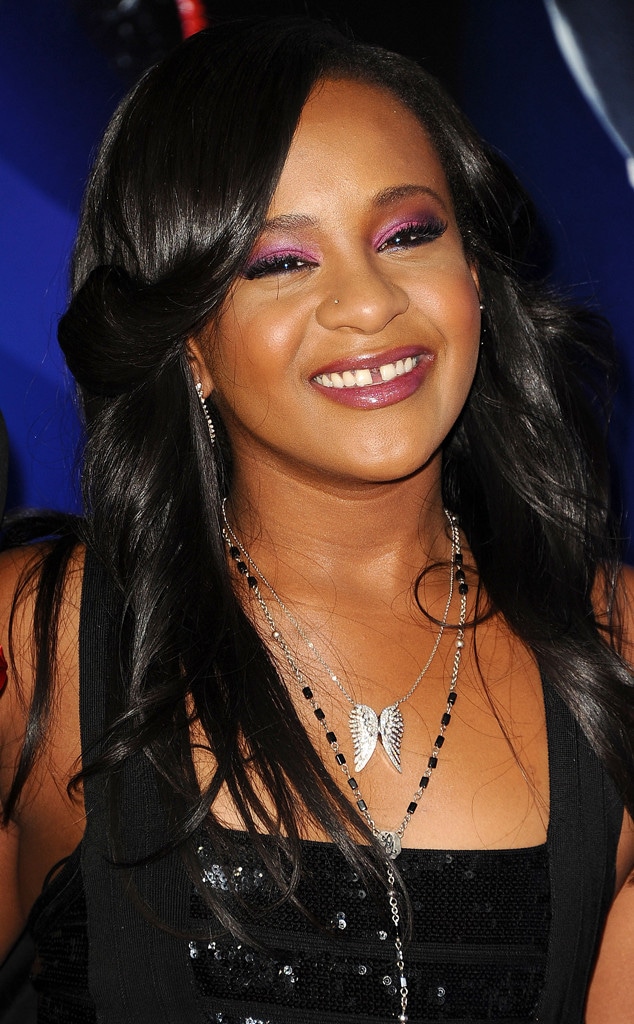 Jason LaVeris/FilmMagic
Bobbi Kristina Brown has passed away at a hospice center in Atlanta. 
"Bobbi Kristina Brown passed away Sunday, July 26 2015, surrounded by her family. She is finally at peace in the arms of God," the Houston family said in a statement to E! News. "We want to again thank everyone for their tremendous amount of love and support during these last few months." 
The only child of Bobby Brown and the late Whitney Houston was found unconscious in a bathtub at her home on the morning of Jan. 31 and had been in a comatose state ever since.
On June 24, Pat Houston released the following statement to E! News shedding a somber light on her niece's condition:
"Despite the great medical care at numerous facilities, Bobbi Kristina Brown's condition has continued to deteriorate. As of today, she has been moved into hospice care. We thank everyone for their support and prayers. She is in God's hands now."
The 22-year-old's passing comes a little more than three years after her mother's death. The legendary singer drowned in the bathtub in her suite at the Beverly Hilton hotel the day before the 2012 Grammys.
Tragically, Bobbi Kristina was discovered face down in the filled tub by a friend of her longtime boyfriend, Nick Gordon; Gordon is said to have immediately rushed to the room and tried to revive her with CPR while his friend called 911.
On July 15, multiple outlets reported that Gordon had been served with a $10 million lawsuit filed by Bobbi Kristina's state-appointed conservator as he left a Starbucks in Longwood, Fla.
Bobby Brown first broke his silence on the horrific family emergency the following day, stating, "Privacy is requested in this matter. Please allow for my family to deal with this matter and give my daughter the love and support she needs at this time."
Todd Bennett/Getty Images
While authorities refused to comment on the ongoing investigation, E! News exclusively reported back in February that the Roswell Police Department was looking into the possibility that another person or persons may have been in Bobbi Kristina's home the morning she was discovered.
Bobbi Kristina's cousin Jerod Brown, who goes by the name YF Kennedy, told E! News that she had not been using drugs nor drinking alcohol.
"It's a rough time lately with the anniversary," he said at the time. "So this is a blow to the family."
He also shared that Bobbi Kristina had been happy and seemed to be focusing on her foray into the music world.
"She's excited. She was real focused. She was ecstatic about her new journey that was embarking on," Brown told us via Skype. "You could see it on Instagram when she commented on it with the fans as well. She was ready to do this and let the world see what she was working on."
But it's understandable if the pain of losing Houston never left her. The morning after her mom died, Bobbi Kristina was hospitalized and treated for stress.
Houston's death was eventually ruled an accidental drowning, with cocaine use and heart disease cited as contributing factors.
Meanwhile, Bobbi Kristina's father has sought help for addiction issues in the past, most recently with a stint in rehab just a few months after Houston, who divorced him in 2007, passed away.
Ron Wolfson//Time Life Pictures/Getty Images
The New Edition singer publicly denied being the one who got Whitney addicted on drugs, telling the Today show in 2012 that being blamed for her death felt "terrible."
He added that the reality show Being Bobby Brown allowed the duo to see "that our drug use had affected our relationship, had affected the love that we felt for each other."
Our thoughts go out to the Houston and Brown families.