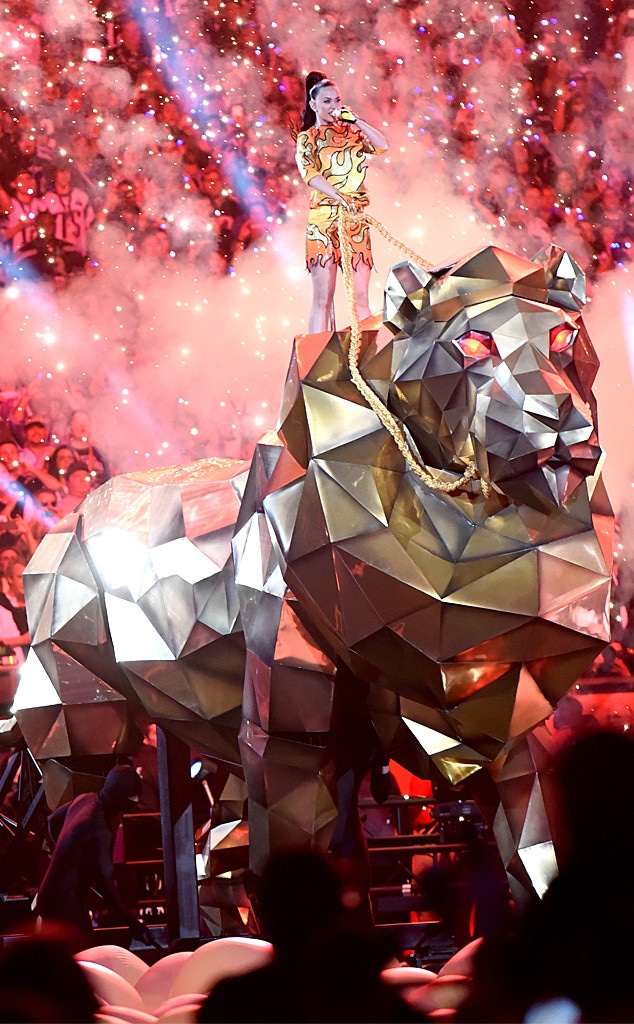 Jeff Kravitz/FilmMagic
Well that's just how we do at the Super Bowl!
After so much excitement and anticipation, Katy Perry finally took to the stage for the Pepsi halftime show.
Joined by special (and not so secretive) guests Lenny Kravitz and Missy Elliott, the 30-year-old star got millions of viewers dancing and singing in their living rooms during her 12-minute set.
"Today is the day that the Lord has made!" Perry tweeted hours before her performance. "I will rejoice and be glad in it!"
But really, how did Miss Perry do during her set? Well if you like dancing palm trees, '90s flashbacks and giant lions, we have a feeling you were very pleased.
Take a look at the five best moments from the show. 
AP Photo/David J. Phillip
1) Katy's Giant Roar: Who needs a stage when you have a giant blinged-out lion to climb aboard? In her first of many outfits, Perry kicked off the show with "Roar" and "Dark Horse" as she tried to keep her balance on top of the moving structure. Oh, did we mention she was wearing heels? Impressive, girl!
2) Lenny Kissed a Girl: Okay, so the rock star didn't exactly make out with anyone onstage. He did, however, add some serious rock 'n' roll to Perry's track "I Kissed a Girl." In true Lenny style, the singer wore ripped denim jeans and a black leather jacket while strumming his guitar. Rock on, dude!
3) Work It Missy: So it wasn't exactly a surprise! But the rapper certainly appealed to a whole other audience when she performed "Get Ur Freak On," "Work It" and "Lose Control" onstage! Oh we just feel so nostalgic!
4) Where Are the Hot Dogs: During "California Gurls," Perry stepped out in an outfit totally reminiscent of those famous Hot Dog on a Stick uniforms. The dancing palm trees and beach balls didn't exactly help either. But while the singer hoped all eyes would be on her outfit, we were too busy staring at the dancing sharks. Paging Discovery Channel: You might have found a new addition to Shark Week. After all, they have their own Twitter handle already.
5) Fly Away: Perry just made the impossible, impossible. During her final song, the 30-year-old didn't just belt out "Firework." She also took a quick fly-over the stadium while being strapped in safely (thank goodness) in a harness. It's a bird, it's a plane! Nope, it's just Perry ending on an extra high note!