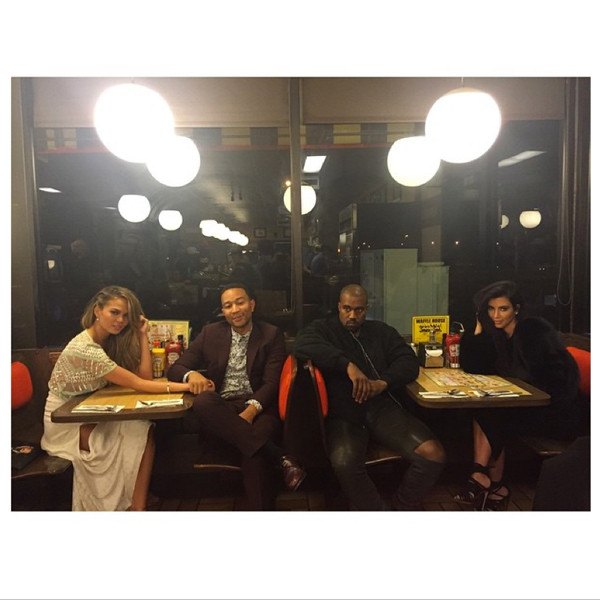 Instagram
Married couples Kim Kardashian and Kanye West and Chrissy Teigen and John Legend know the best way to cap off a fun-filled night of partying: Waffle House!
After West performed at DirecTV's pre-Super Bowl party in Arizona on Saturday night, the four went on a double date at a Waffle House, one of the Twitter world's favorite late-night eatery, to get some delicious eats. Kardashian, sporting a black tube top, cropped black fur jacket and black pencil skirt, and Teigen, wearing a white, embellished gown with a thigh-high slit and metallic stiletto heels, posted on their Instagram pages a photo of the group.
Each couple sat at a table for two, one in front of the other. West is seen staring straight ahead.
"Double date at the Waffle House," Kardashian said.
"Every house should be a waffle house," Teigen wrote.
At the DirecTV party, Kardashian was seen capturing footage of her hubby's set with her cell phone. She was also seen dancing with Teigen and Legend and snapping selfies with the model.
Mike Coppola / Getty Images for DirecTV
The four had also gotten together last month to celebrate the crooner's 36th birthday.
Rihanna also performed at the DirecTV's pre-Super Bowl party, while other celebs spotted at the bash included Aaron Paul and his wife Lauren, Michael Strahan, Mark Cuban, Nick Jonas and Tony Romo and Candice Romo, her brother and actor Chace Crawford and The Vampire Diaries star Nina Dobrev.
—Additional reporting by Baker Machado