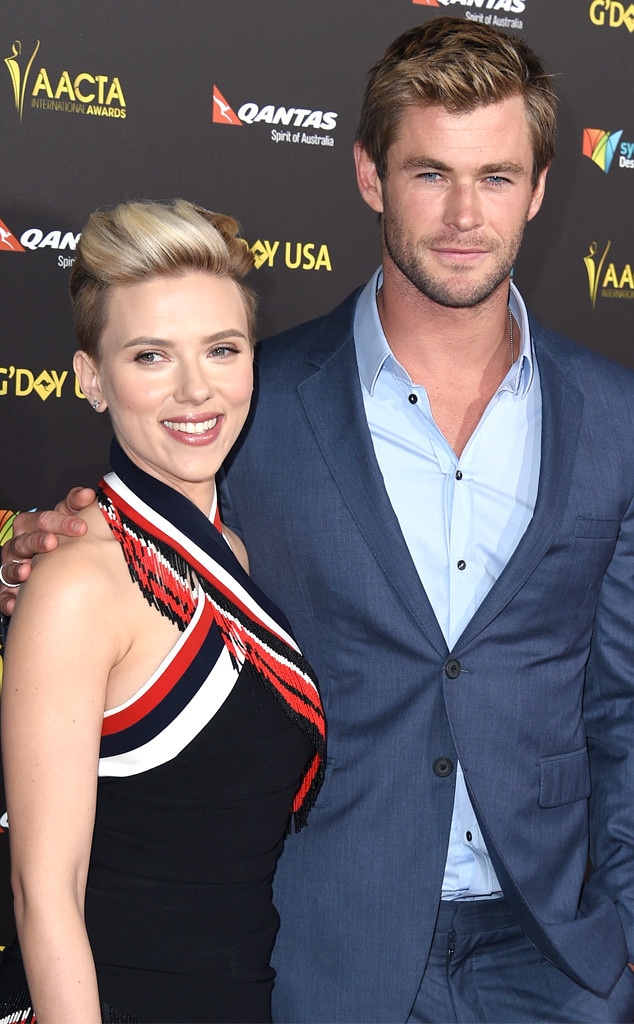 Steve Granitz/WireImage
Talk about a sleeping beauty.
Scarlett Johansson says Chris Hemsworth is as hot when he's catching some shuteye as he is when he's wide awake.
ScarJo presented the Sexiest Man Alive with the Excellence in Film Award last night at the 2015 G'Day USA Gala and Australian Academy of Cinema and Television Arts International Awards.
She recalled being a plane during their Avengers press tour with Hemsworth and their co-stars Mark Ruffalo and Chris Evans.
"Chris decided to take a little cat nap," Johansson remembered. "He collapsed into a giant perfect heap, his lion's mane gracefully falling around his prominent chiseled features. 'My, God,' proclaimed Ruffalo, 'what a specimen.'"
Evans added, "It's incredible—the man is perfect even when he's drooling."
Matthew Stockman/Getty Images
Johansson said she "just stared hoping that some of his stardust would drift my way."
And the gushing didn't stop there.
"He's all at once sensitive and ferocious, otherworldly and grounded, is shockingly handsome and is surprisingly approachable" Johansson said. "He is every man and like no man you've met before. He is versatile despite his physicality, which makes him a grade A movie star."
Hemsworth, who looked pretty darn perfect in a blue suit and light blue shirt, gave a special shout-out to his wife, Fast & Furious 6 actress Elsa Pataky, calling her "the greatest thing I've gotten over the last few years.
"So thank you very much to everyone, but especially my wife," he said.
Joining the Rush star for his big evening were his actor brothers Liam Hemsworth and Luke Hemsworth as well as his agent Bryan Lourd.
Hosted by Nicole Kidman and Geoffrey Rush, the AACTA International Awards honored Birdman as best picture along with the film's Michael Keaton as best actor and Julianne Moore (Still Alice) as best actress. J.K. Simmons (Whiplash) was named best supporting actor and Patricia Arquette (Boyhood) took home the best supporting actress award.
Presenters and guests included Russell Crowe, Naomi Watts, John Travolta, Keith Urban, Rebel Wilson, Rachel Griffiths, Jacki Weaver, Allen Leech and director Philip Noyce.
Australian chef Neil Perry and Top Chef's Tom Colicchio teamed up for the menu for the gala, which was presented by Qantas and took place at the Hollywood Palladium.