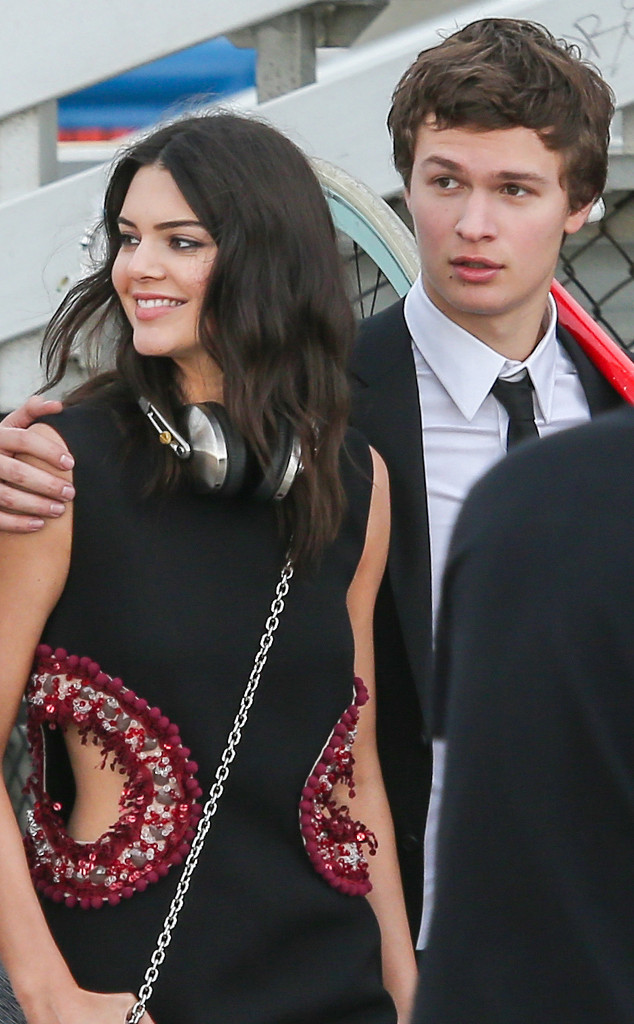 Xposure/AKM-GSI
Kendall Jenner is one lucky girl!
Wearing a black and burgundy beaded cut-out top, red pants, and headphones around her neck, the 19-year-old model and Keeping Up With the Kardashians star cozied up to The Fault in Our Stars and Divergent star and regulation hottie Ansel Elgort, looking sharp in a black suit and tie, for a photo shoot in Venice, California on Friday.
Kendall and the 20-year-old actor were joined on location by fellow models and Real Housewives of Beverly Hills stars Gigi Hadid,19, and sister Bella Hadid, 18. It is unclear what the photo shoot was for.
The four were later seen snapping pictures with a selfie stick and taking a stroll on the beach, carrying plates of food and what appeared to be plastic cups of a red-colored drink. Kendall changed into a new outfit—a white crop top and black mini skirt, while Elgort removed his jacket.
Later in the evening, Jenner and Gigi hung out and watched The Lorax together. Not a bad way to end the day!
In March, Elgort can be seen in the new film Insurgent, the sequel to the dystopian film Divergent. He reprises his role as Caleb, brother of main character Tris, played by Shailene Woodley. The two played love interests in the tearjerker The Fault in Our Stars. Gigi was a big fan.
In case you didn't know, Elgort is so hot right now. Even Ben Stiller, who he hung out with earlier this week, knows it.