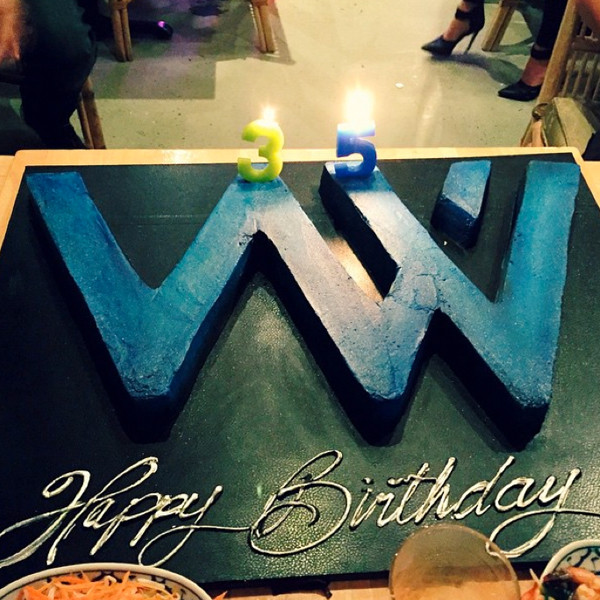 Instagram
The nostalgia is too real right now.
Fans of That '70s Show will be giddy with excitement after learning that some of the cast reunited for one festive event last night. New parents Ashton Kutcher and Mila Kunis got together with Danny Masterson and a bunch of other close friends to celebrate Wilmer Valderrama's birthday at Palm Thai restaurant in Hollywood.
The former co-stars and real-life buds surprised Wilmer, who turns 35 years old today (happy birthday, Wilmer!), alongside his ladylove Demi Lovato.
And the best part of it all? There's video!
An employee from the restaurant posted a series of videos on her Instagram account showing the fun bunch singing Wilmer "Happy Birthday" as the server walked out with a special cake. Once the song was up, Valderrama turned to Demi and stole a smooch (so cute!) before focusing all of his attention on getting the perfect photo of his cake for Instagram.
Once he got the right pic, Wilmer blew out his candle and the crowd erupted into a round of "For He's a Jolly Good Fellow" (which seemingly started with Kutcher).
"IT'S MY BIRTHDAY!!!! Haha!! I was surprised last night by all the people I love!!," Valderrama posted on Instagram today with the winning pic of the cake. "I felt so blessed to have looked around & truly know that everyone by my side has & will always have my back. I love you! 35, does that mean is cheaper when I go to Disneyland!?"
We don't know about all that, Wilmer, but from the looks of it, you don't have to venture too far to find the happiest place on Earth.