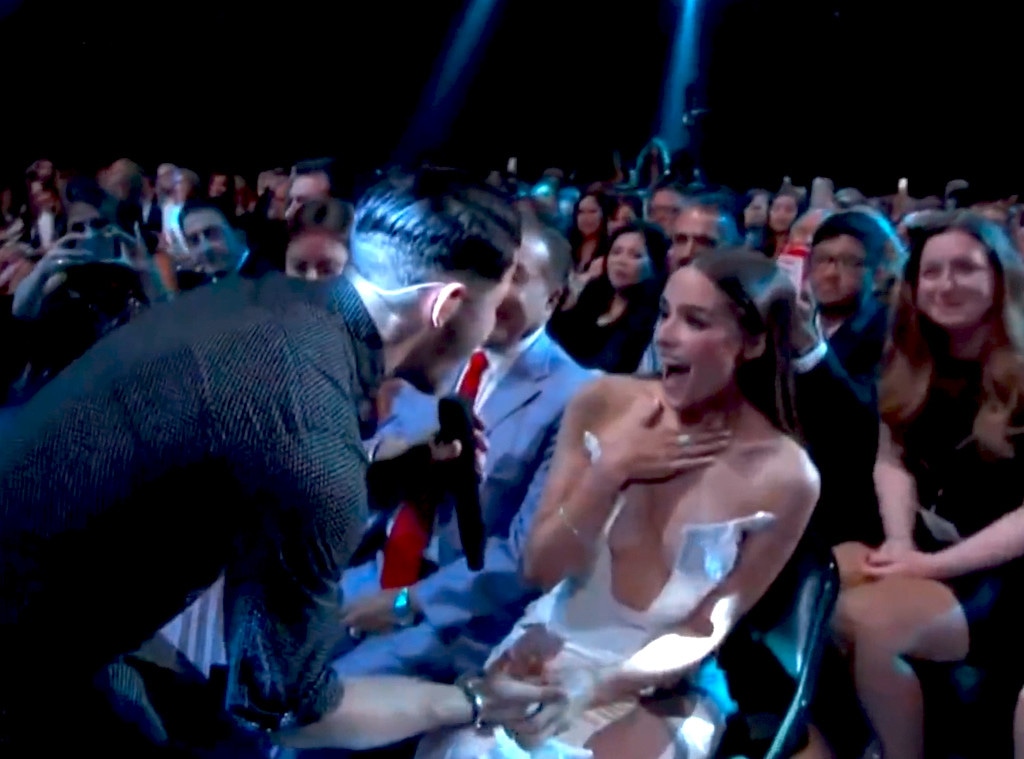 YouTube
Nick Jonas says girlfriend and Miss Universe 2012 Olivia Culpo thought he was about to propose while singing in front of her at the live televised 2014 pageant this past Sunday.
At the event, which took place in Miami, the 22-year-old pop star had performed his song "Chains" on stage as contestants moved around slowly to the beat and announcers began to reveal the top 10 finalists (Jamaica, Colombia—the winner, Ukraine, Argentina, the Philippines, Spain, the Netherlands, Venezuela, Australia and USA). He then switched to sing his track "Teacher" before launching into the fast-paced pop song, "Jealous."
This time, he stepped off the stage and made his way towards the 22-year-old beauty queen, who was sitting in the front row in the audience. He bent down and sang directly in front of her for about three seconds as she smiled widely and put her hand on her neck in apparent surprise. He then got up and returned to the stage.
"I went down and sang to her and I go on a knee and approached her. Her face was in full panic, she thought I was going to propose on national TV in front of one billion people," Jonas told the U.K. newspaper The Sun, as quoted by The Daily Mail on Wednesday.
Culpo has not responded publicly to his remarks. A day after the pageant, she posted on her Instagram page a photo of the two at the ceremony, saying, "Best part of tonight. Being serenaded by this stud."
She and Nick have been dating since the summer of 2013.
"We're 22 so there's plenty of time to do that," the singer told The Sun, regarding marriage.
In an interview with Access Hollywood in October, Nick said he would tie the knot "at some point."
"It would be ideal [to settle down], but we're still quite young and we're going on a journey," he said about Culpo.
In September, Nick confirmed he had removed his purity ring. He and his brothers and fellow former members of the pop group Jonas Brothers, Joe Jonas and Kevin Jonas, had famously worn them when they were younger, as a promise "to ourselves and to God that we'll stay pure till marriage."
Joe had said in 2013 that he had lost his virginity at age 20 and Kevin had said he had had sex for the first time on his wedding night after marrying wife Danielle in 2009.
Watch:
Why Did Nick Jonas Remove His Purity Ring?
"Jealous" was released in September and is a track on Nick's second, self-titled studio album. Culpo inspired him to write the song.
"I saw someone looking at her ass when we were out one night," Jonas had told E! News. "It really upset me. The next day I went into the studio and wrote the song. So I got something good out of the experience even though in the moment it was frustrating."