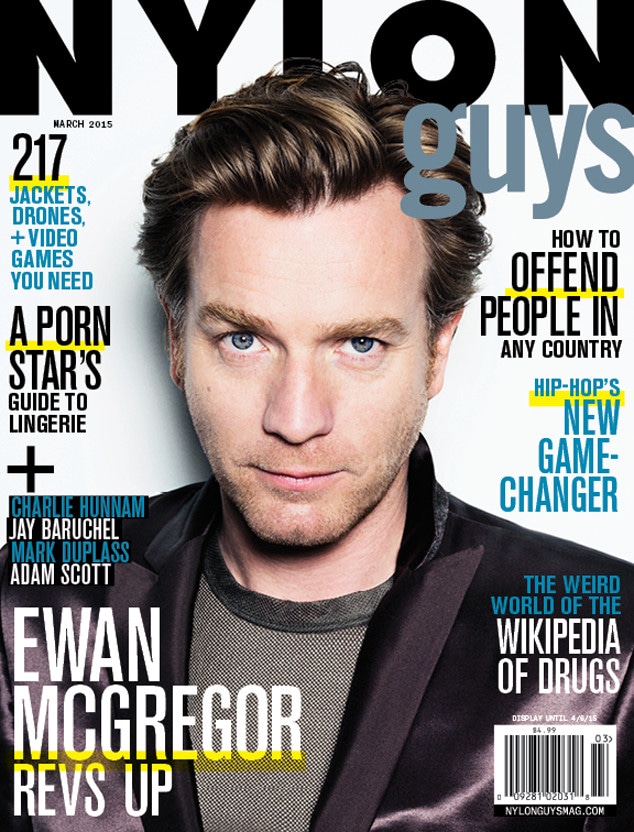 NYLON Guys
It's no secret that Ewan McGregor isn't afraid to bare all on the big screen. In fact, his penis has appeared in films such as Young Adam, Trainspotting, The Pillow Book and I Love You Philip Morris, to name a few.  
And if you've seen one of the aforementioned full-frontal scenes, then you're well aware that the 43-year-old is well-endowed—a fact which Colin Farrell had no trouble pointing out in a recent interview with Nylon magazine. 
"I don't think Ewan is as proud of his penis as most men who are as well hung would—or should—or could be," he joked of his Cassandra's Dream co-star. "I think that's the greatest demonstration of his innate humility, that he doesn't wear it like a badge of honor."
Nudity aside, McGregor opened up to the publication about his illustrious career, admitting he was terrified to perform dangerous stunts in his recent film Son of a Gun, in which he was required to hang out of a helicopter. 
"We had to wait for ages in the helicopter port," he tells the March issue of the mag. "Suddenly they rushed us out, 'We're on! We're on! We're on!' I go to roll the door and the door's not there. They go, 'Yeah, the door's not going to be there. OK, go!' Two minutes later, we're 10,000 feet in the air. I've got a f--king machine gun on my legs and some lap strap. I s--t myself. When a helicopter banks, it really banks." 
Despite his impressive career undertakings, the actor, who has been married to wife Eve Mavrakis since 1995, points to his family life—the couple has four daughters—as his most impressive achievement. 
"I've been a dad for 18 years. Your work reflects your life, and the biggest element of my life is that I'm a dad," he said, giving a nod to his film The Impossible. "That's the most important thing of all. And yet it's been relatively unexplored."
And while McGregor rarely opens up about his family, he did admit he is a bit of a strict dad. "Clara, my eldest, started talking about tattoos. I said, 'Dude, I got my tattoo when I was 30 years old. You're 17? 18? I can assure you that what you think you want on your arm now isn't what you're going to want on your arm when you're my age. Don't do it.'" 
As for whether his daughters ride motorcycles with their dad? 
"No, my wife would absolutely kill me," he confessed. 
In addition to dishing on daddy duty, the thesp also reminisced about his wild younger years with pals Jonny Lee Miller, Angelina Jolie and Jude Law. "Jonny and Angelina were shooting Hackers, Jude had done Shopping. I'd done Shallow Grave. We were all kicking off. It was happening. We were having a right laugh. It's the '90s in London. It was quite fun…," he revealed, staying mum on specifics before adding, "That's all you're getting."
It was also during this time that McGregor realized he had to get a grip on his ego. "We were so very full of ourselves," he said, referencing the premiere of Trainspotting in Cannes in 1996. "I was arriving at the red carpet after the screening, and I was just feeling like, 'Has there ever been a bigger movie star?' And I walked up to the hundreds of thousands of photographers, and I took my arrogant stance. And then every single lens in the whole f--king area went whoosh. I turned around and Mick Jagger was getting out of a car. And I realized I had to get over myself."