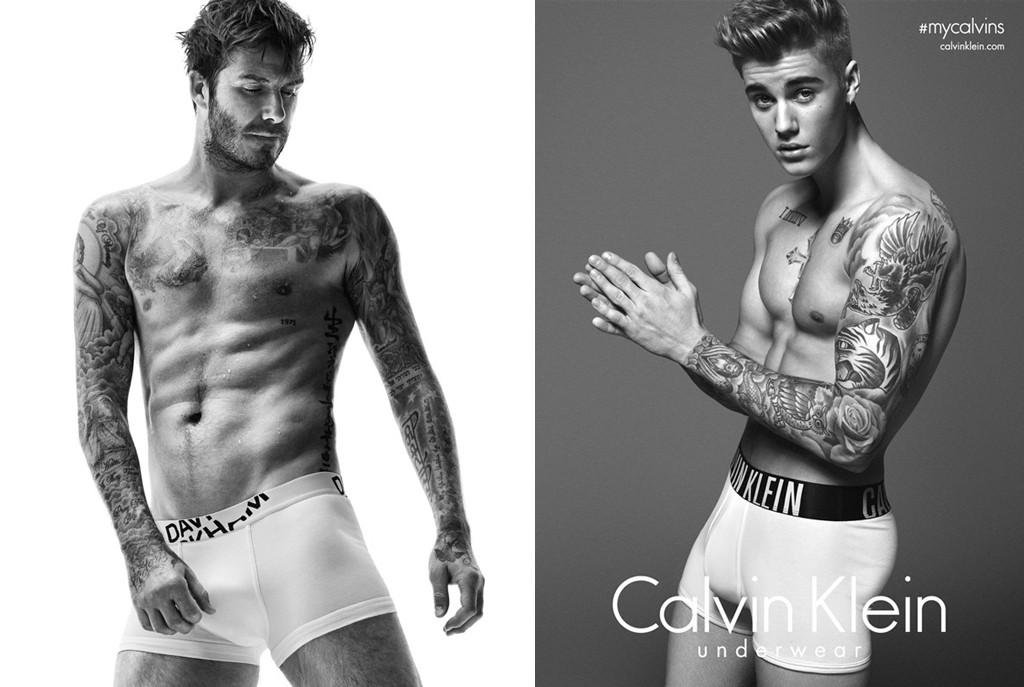 H&M; Calvin Klein
David Beckham isn't worried about Justin Bieber's new underwear campaign outshining his sexy H&M ads.
The soccer stud has now weighed in on the Biebs' recent debut as the face and body of Calvin Klein skivvies.
"Not bad, not bad, not bad," Becks told me of the pop star's strip down when I caught up with him last night at the U.S. launch of his new single-grain Scotch whisky, Haig Club. "He looks good in his underwear ads. He looks very good."
"So do you," I said.
"Thank you, but I'm slightly older," Beckham said, laughing.
Hard to believe, but the father of four is actually turning the big 4-0 this year (May 2 to be exact).
"I'm not worried about turning 40," he said. "People keeping turning around and saying, 'You're turning 40—how do you feel?' And I'm like, 'I feel fine. I'm looking forward to it.' I just don't want a big party because I don't like that kind of attention, but I'll do a quiet dinner with friends."
And we're sure Haig Club cocktails will be on the birthday menu. The whisky venture is Beckham's first foray into the liquor business. He turned down plenty of alcohol endorsement deals while he was still playing professional soccer because he "didn't feel it was the right thing to" as an athlete, he said.
"I can enjoy a drink now during the week without worrying about, 'Oh, I'm playing this weekend or I'm training in the morning,'" he said. "I kind of enjoy a glass of wine or a glass of whiskey without kind of thinking, 'Oh, I have to get up really early and run around the field tomorrow.'"
And guess who's a newly-minted whisky drinker? Victoria Beckham.
David said his wife isn't the "biggest drinker in the world" and initially questioned the whisky project. But then he asked her to sample some, including a cocktail he made for her at home.
"She was actually very impressed that I had come up with this cocktail, which I made her believe I actually came up with," he said. "She liked it. Now she's a whisky drinker."
That's not all the Beckham I have for you. Tune into E! News tonight at 7 p.m. and 11 p.m. to find out what he told me about the pressure to stay in shape, fatherhood and more.