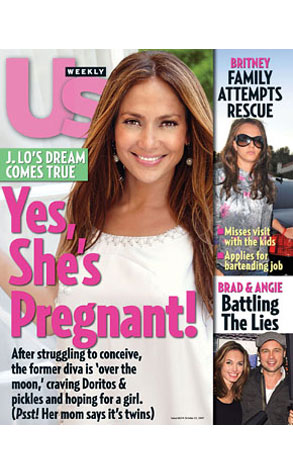 Us Magazine
Jennifer Lopez was able to shake off Diane Sawyer and David Letterman yesterday. Both talk-show hosts respected the singer's privacy, giving her an opportunity to announce her pregnancy if she felt like it but never asking her outright.
Letterman was especially notable for how he and Jen were able to riff on parenthood without her ever having to fess up to her own impending motherhood. Check out the video here.
Us Weekly, on the other hand, is not so dainty. The mag is so sure she's preggers it has her on this week's cover saying just that.
The article says the mag has confirmed through various sources that J.Lo is four months along and that her mother is telling people it's twins.
Okay, we trust in Us, and since the maybe-mom-to-be probably isn't gonna talk, we'll leave Jen be...glowing, that is.