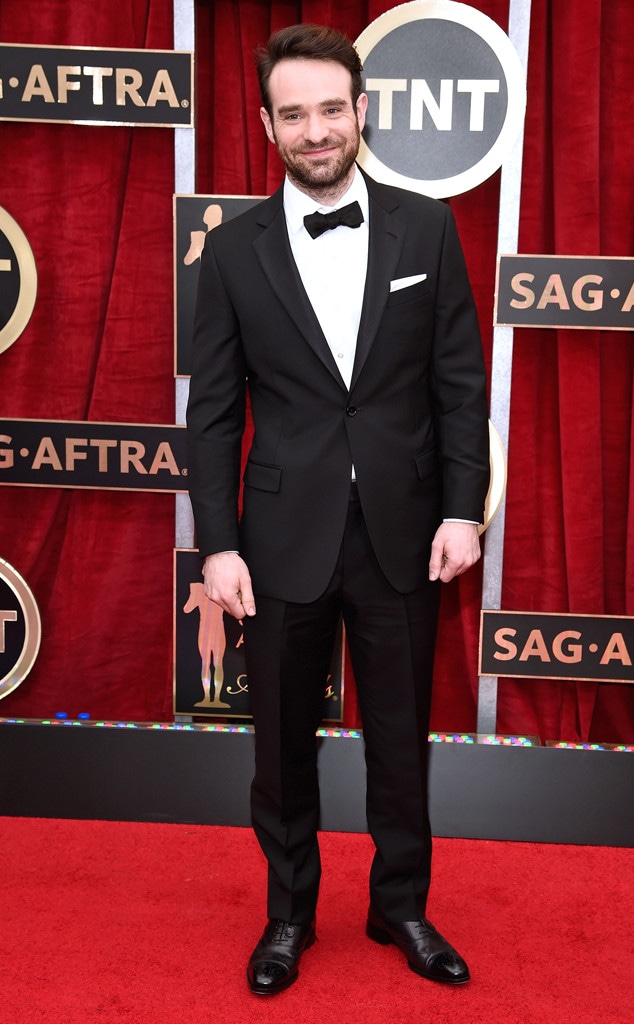 Kevin Mazur/WireImage
Get out the Vaseline!
Sounds like Charlie Cox needs plenty of it to squeeze into the superhero suit for his starring role in Netflix's upcoming much-anticipated Daredevil series.
"It's pretty tight, I'm not going to lie," the Brit actor told me yesterday at the SAG Awards. "They've done such a great job. I can't wait for fans to really see it. But put it this way, there is no world where you change in a phone box. It takes four people and about 45 minutes."
A very dark photo of Cox as the crimefighter was released in October.
Thankfully, things don't get too complicated when nature calls.
"They're very clever about it," said Cox, who plays Jane Hawking's second husband Jonathan Jones in The Theory of Everything. "You get three zippers. You zip them all up, but when you have to wee, you just have to zip one down—the wee zipper."
The big question is if he's going commando in the suit. Cox smiled—a very big smile, mind you—and teased, "That is the big question."
We first got a glimpse of Cox shooting the show as Matt Murdock, Daredevil's blind lawyer alter-ego, in August while filming in New York City.
Alas, he was in an appropriate courtroom business suit and not his Daredevil costume.
Cox headlines the new 13-episode Daredevil series that is the first of several planned Netflix shows based on characters from the Marvel comics universe.
Other planned shows include series built around Luke Cage, Iron Fist, Jessica Jones and a team-up series, The Defenders. Daredevil is the first to launch in 2015.
The cast also includes Rosario Dawson, True Blood alum Deborah Ann Woll and Vincent D'Onofrio.
Ben Affleck and Jennifer Garner costarred in a Daredevil feature film in 2003. Two years later, Garner headlined a sequel, Elektra.