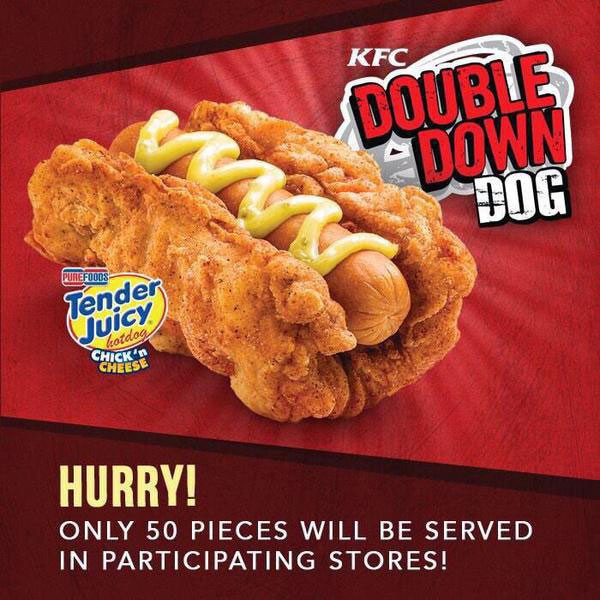 KFC
Pretty soon, the world will not be using bread to bring meat products to their mouths anymore. No more hamburger buns. No more hot dog buns! At last the human race will be able to eat tubes and pads of meat the way they were meant to be devoured: surrounded by more fried meat!
At least, that's how KFC is kind of making us feel after we saw the latest menu item the fast food company is trying out. It's called the Double Down Dog, and if you are familiar with the Double Down sandwich, then you probably can guess what it is.
It's a hot dog wrapped in piece of fried chicken. Oh, and don't forget that it's smothered in cheese sauce! 
You would think that this hot dog monstrosity of cheesy glory would be an American thing, but it's actually KFC Philippines that's currently testing it out for a limited time only. And based on these photos from KFC Philippines' Instagram account, people seem to be enjoying it. 
Or perhaps they are smiling because they were just handed a fried chicken-wrapped hot dog covered in cheese and that's really the only reaction to have when you are handed a fried chicken wrapped hot dog covered in cheese. That, or instantly vomiting.
Anyway, to hell with actual buns! What will they think of next?
• Hot Pockets, but instead of the crust pocket, make it fried chicken
• Oreos, but instead of the cookies sandwiching the cream, make it fried chicken
• Bacon, but instead of bacon, make it more bacon
• Mozzarella sticks, but instead of the bread crumb coating, make it fried chicken and more mozzarella
• A bacon cheese burger, but instead of hamburger buns, make it fried…oh, wait. KFC has already done that!
Because of these KFC inventions, we both love and loathe this world we live in. Happy eating, everyone!