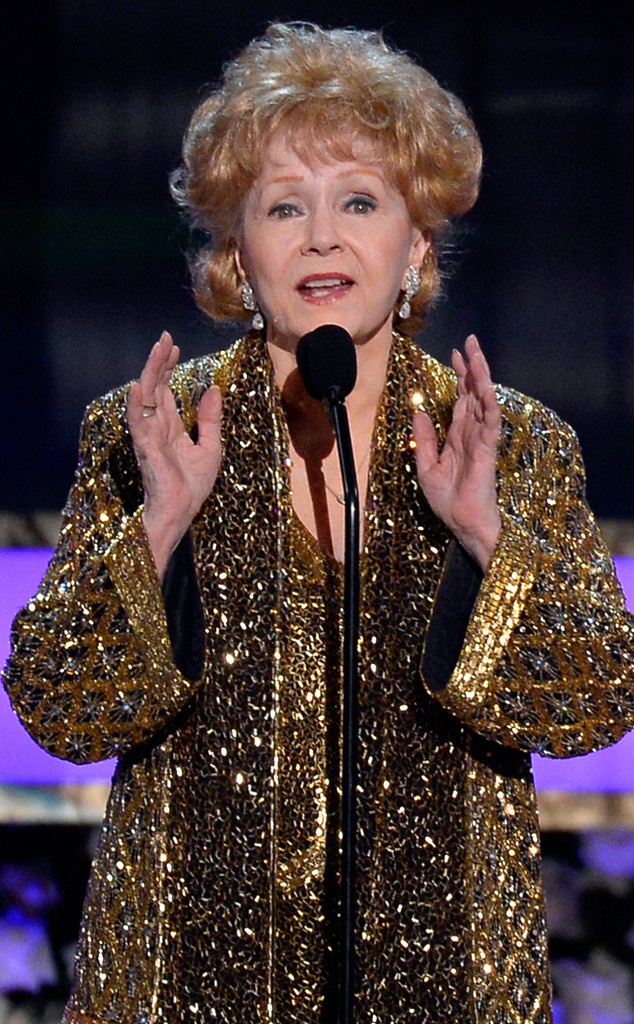 Kevork Djansezian/Getty Images
With a career spanning 66 years, Debbie Reynolds was honored tonight for her long list of achievements at the 2015 SAG Awards. 
The 82-year-old megastar received the 51st Lifetime Achievement Award at the 21st annual ceremony on Sunday, held at the Shrine Auditorium. 
Reynolds' daughter, Carrie Fisher, presented her mother with the highly coveted accolade, joking to the audience as she took the stage, "I'm very close to this year's Lifetime Achievement Award honoree." 
Fisher went on to gush over her mother's achievements, peppering her speech with both thoughtfulness and humor. "This is an extraordinarily kind, gifted, and funny woman who would give you the shirt off her back if Vivien Leigh hadn't once worn it in Gone With the Wind," she said.   
Kevork Djansezian/Getty Images
After a montage of Reynolds' work was played, the legendary actress shared a tender moment with her daughter on stage before thanking her fans, friends and the Screen Actors Guild for her illustrious career. 
"My favorite picture, well I did a few, was Singin' in the Rain," she said. "I want to thank the Screen Actors Guild for awarding me this tonight, it's very unexpected. I've been in the business now 66 years so I'm very excited to be here." 
"Of course I had a wonderful hairdo in that picture," she continued. "Some of you may not remember this but I had a bun. At the back of my head I had a big bun, an ugly bun. I'd warned my daughter Carrie who'd just gotten a part in a picture, Princess Leia in Star Wars and I said 'Carrie be careful of any weird hairdos.' So luckily, George gave her two buns. Thank you, George." 
She then mentioned her 1964 musical The Unsinkable Molly Brown and recalled how she "got to sing a wonderful song 'I Ain't Down Yet.'" 
"Well, I ain't," she said before concluding, "Thank you all for this wonderful award." 
Reynolds' has received Oscar, Emmy, Tony and Golden Globe nominations over the course of her lengthy career. She has starred in more than 50 films, two Broadway shows and two television series, and she most recently appeared alongside Matt Damon and Michael Douglas in the critically-acclaimed Behind the Candelabra. 
The prestigious Lifetime Achievement Award is given annually to an actor who fosters the "finest ideals of the acting profession." Previous recipients include Mary Tyler Moore, Dick Van Dyke, Julie Andrews and Betty White. 
Congrats!