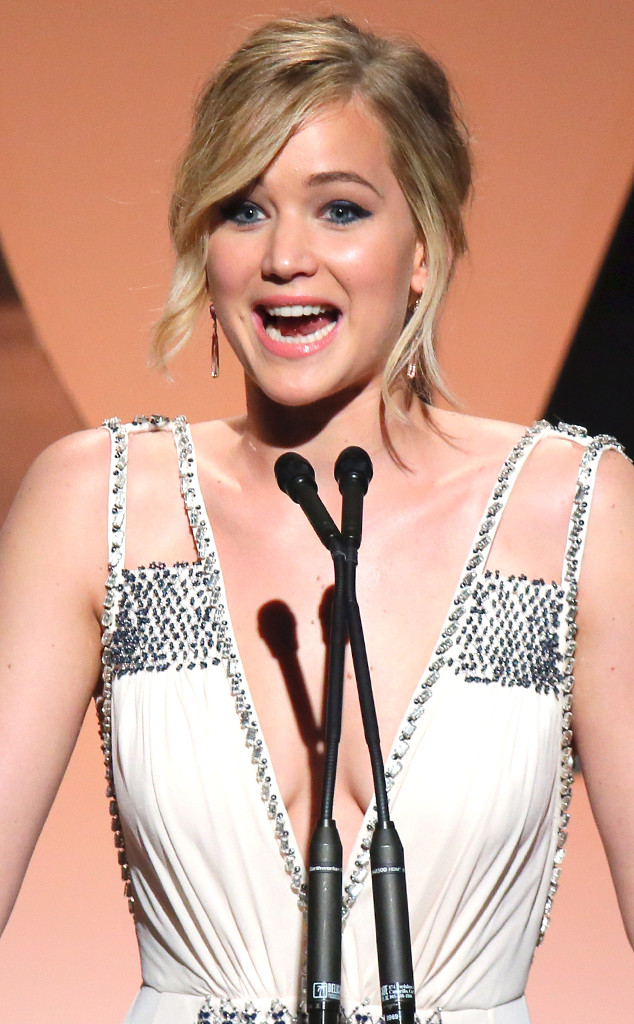 Mark Davis/Getty Images
Jennifer Lawrence doesn't like giving speeches.
And she made that perfectly clear last night when she presented an award to Jon Feltheimer, CEO of Lionsgate (the studio behind the Hunger Games franchise), at the Producers Guild Awards.
She opened by telling the crowd at the Hyatt Regency Century Plaza hotel that she wish she would have taken a "Xanax" before hitting the state.
"I normally say no to this kind of thing on the account of my crippling anxiety and the unbreakable bond between woman and couch," Lawrence said. "But I when I heard it was for Feltheimer, I had to say yes because I just assumed that I was contractually obligated but then when I found out that I wasn't, I had already picked out this dress."
Eric Charbonneau/Invision for Lionsgate/AP Images
Looking at Feltheimer at his table, Lawrence said, "I know what you're thinking, I'm going to totally mess this up—and you're right.
She said that "Jonn was charged to insure that Suzanne Collins' Hunger Games incredible trilogy of books was respectfully brought to life in four films and it was a…huge f—king failure!"
No, she wasn't serious.
"I was so afraid of signing on to these movies a few years ago because something that size can make or break a career," Lawrence said. "I put my trust in Lionsgate and they put their trust in me and now I think we have a strong and amazing relationship that I hope lasts until my career dies at 35."
Fumbling a few words at about the four-minute mark, Lawrence yelped, "Oh, God! I'm sorry. It's just so long."
Keep staying adorable, J.Law.
Jason Kempin/Getty Images for The Clara Lionel Foundation
Brad Pitt's production company Plan B was presented with the Visionary Award by legendary television producer Norman Lear.
"When I was a kid, television to my parents was a relatively new invention," the Fury star said. "It was a luxury to have in the home, which meant after dinner we would all crowd around and watch Fred Sanford [on Sanford and Son], we'd watch Archie Bunker [on All in the Family]."
Lear's productions are known for their left-leaning viewpoints and for tackling taboo subjects, including abortion, gay rights and race.
"I can't define how that has shaped my political views, my world views. I certainly can't quantify it," Pitt said. "But growing up in the Bible Belt, particularly the belt buckle of the Bible Belt, it had a huge impact on me."
Birdman picked up the PGAs' top film prize. For the last seven years, the top film winner was also crowned best picture at the Oscars.
Also at the PGAs were Eddie Redmayne, Kerry Washington, Reese Witherspoon, Edward Norton, Shonda Rhimes, Matt Bomer, Felicity Jones, Keira Knightley, Clint Eastwood, J.K. Simmons, Judy Greer, Common, Ty Burrell and Fifty Shades of Grey producer Dana Brunetti and his Arrow actress girlfriend Katie Cassidy.