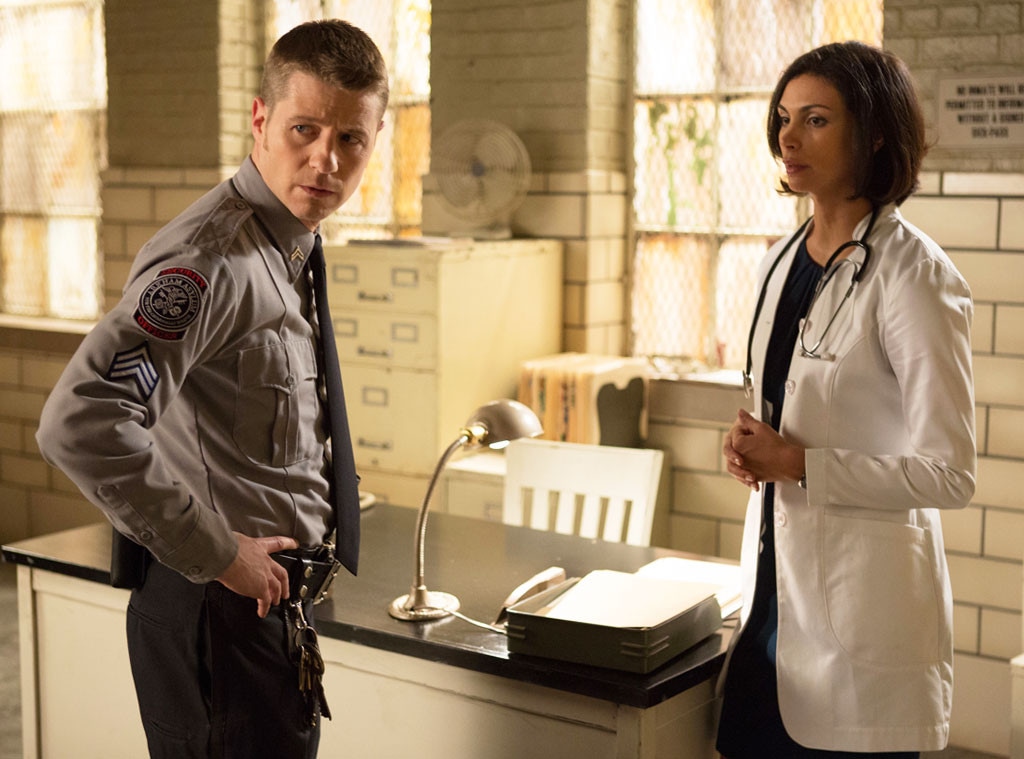 FOX
Let the record show:  Ben McKenzie, Robin Lord Taylor and Donal Logue remain some of the coolest guys working in TV. Is it wrong that we kind of want to switch jobs to anything (janitorial services?) on the set of Fox's Gotham?
Not only has Robin maintained his pinch-me-I'm-so-lucky enthusiasm about scoring his breakout role, Gotham's badass trio also dropped some fun teases on the villains coming up.
Yep, Gotham is about to get even more dangerous.
The Fox drama has already seen its fair share of villains, but Ben reveals that an iconic DC Comics character is about to make his way to the city of Gotham, much to Jim Gordon's chagrin.
"We have some new villains coming in," McKenzie tells E! News, "including an origin story for the Scarecrow."
Plus, get ready to meet the parents of none other than Batman's future sidekick Robin! Check out our video with McKenzie below to find out more about who is about to crop up in Gotham, as well as scoop on when the Riddler (Cory Michael Smith) will turn to the dark side...
Watch:
Ben McKenzie Reveals the Newest Villains on "Gotham"
So what else is coming up in the back half of this season? The first face-to-face meeting of two of the most infamous Batman villains!
"I am mostly excited for people to finally see the Penguin and the Riddler meet," Robin Lord Taylor tells E! News. "It's been a long time coming."
Check out our full interview with Robin for more...
Watch:
Robin Lord Taylor Gives Juicy "Gotham" Scoop
Donal Logue echoed what McKenzie said and revealed to E! News that what he's most excited for fans to see is the upcoming Scarecrow and Riddler storylines.
"I can't say if it's any cooler than what happens with Fish Mooney [Jada Pinkett Smith]," Logue teases. "But also the Riddler starts to go nuts! I think we're starting to find a cool groove for the show."
Gotham airs Mondays at 8 p.m. on Fox.