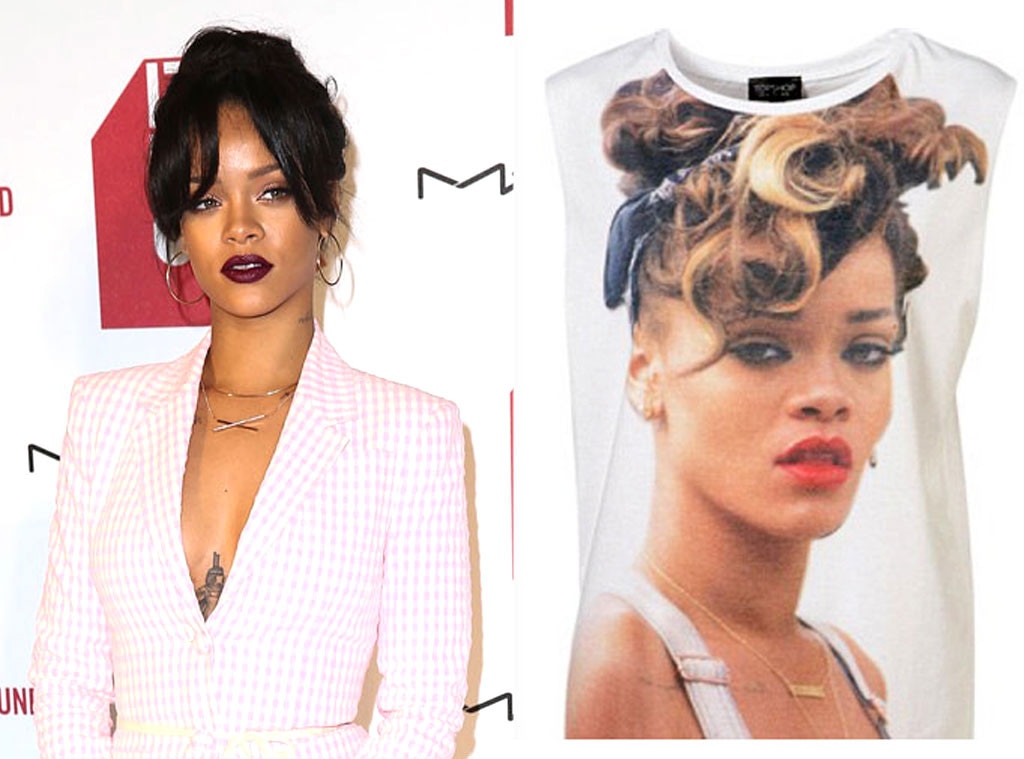 Courtesy of Topshop.com; Getty Images
Score one more for Rihanna!
The "Diamonds" singer has won her lawsuit against British retailer Topshop for using an image of her on a T-shirt without her permission.
The Court of Appeal in London upheld a ban on the store selling the sleeveless tee, making it one of the first successful celebrity cases of its kind, according to the BBC. Three appeal judges unanimously agreed that selling the shirt without her approval was damaging to Rihanna's brand.
The lawsuit has been going on for 2013 when Rihanna sued Topshop's parent company, Arcadia, for $5 million. The image was a photo taken during a video shoot in 2011 and was similar to photos taken of the "S&M" singer during filming of a music video in Northern Ireland in 2011, which ended up being included in the CD sleeve of her album Talk That Talk. RiRi's lawyers claimed that such use of her image on unauthorized tees was deceptive.
In a 2013 ruling, High Court Judge Justice Birss agreed and ruled that buyers would be deceived into purchasing the shirt in question because of the "false belief" it had been OK'd by her.
At the time, Topshop released a statement regarding the decision, saying, "There was no intention by Topshop to create the appearance of an endorsement or promotion. The company added that it believed the t-shirt didn't convey any "false message" to its customers, nor was there any evidence of "consumer confusion" to support the judge's conclusion.
Topshop lawyers wanted the three appeals judges to overturn Birss' decision, claiming that the judge had "misunderstood" the law regarding celebrity merchandising.
E! News has reached out to both Rihanna and Topshop for comment.