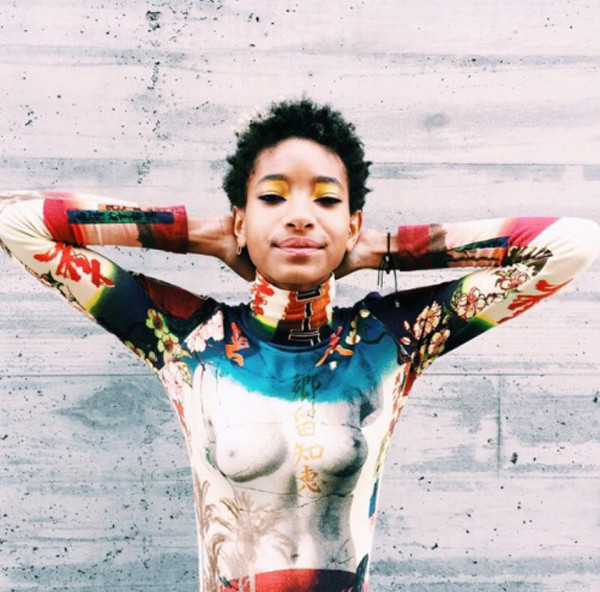 Instagram
Willow Smith has joined the "Free the Nipple" campaign on Instagram, intentionally or unintentionally.
The 14-year-old singer's Instagram fan page has changed the profile picture on the picture-sharing platform to a photo she posted on Twitter, and it has caused quite the stir because it shows her posing topless. Except Will Smith's daughter isn't actually baring it all! She is actually wearing clothing in the shot, but the top depicts a woman's naked body, revealing nipples and all.
Because she is so young, many have fired back at the young starlet for choosing such a provocative ensemble. But the "Whip My Hair" singer is used to causing quite the commotion. Last May when she was just 13 years old, Willow posed in bed with 20-year-old actor Moises Arias, who was shirtless in the shoot.
Jada Pinkett Smith, Willow's mom, fired back at the haters for panicking about the photo.
Tumblr/This photo of a minor was used as she is a celebrity in her own right
"Just don't pollute something that's not dirty," she said in an interview with Net-a-Porter. "It's really tough. I feel like the connection to the value of women on a bigger scale has decreased tremendously. Even though you look and go, 'Women have so many opportunities,' it's like, 'Yeah, but at what cost?'
"Are women valued for being women, or are women valued when they have more masculine qualities? Men and women encompass both female and masculine energies, but it seems like when the feminine is present, it's not respected."
Several celebrities have fired back at Instagram for taking down photos of women showing their nipples. Miley Cyrus has posted her fair share of NSFW photos as a part of the "Free the Nipple" campaign, while Scout Willis walked topless through the streets of New York last spring to protest the app's policy. Her sister, Rumer Willis, then attended a fundraising event for the campaign and wore a shirt with a picture of exposed nipples on it.
Chelsea Handler also slammed Instagram, calling it "sexist" for removing her picture that showed her topless on a horse alongside a picture of Vladimir Putin riding a horse without a shirt.
Do you think her picture is inappropriate? Sound off in the comments below!