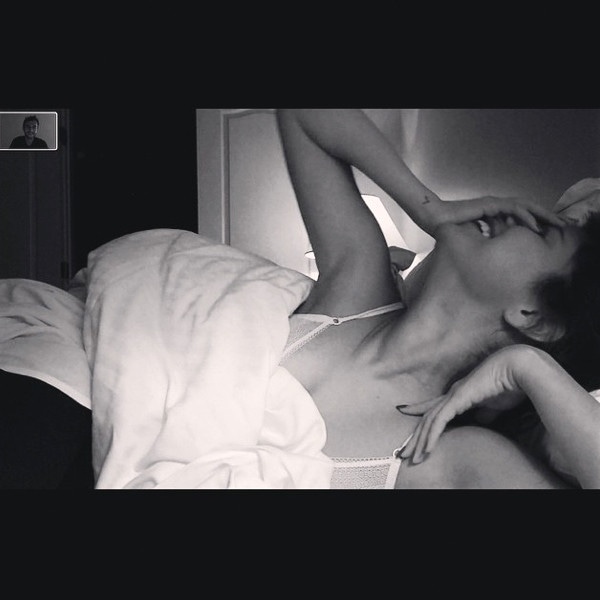 Instagram
Safe to say this won't put a stop to those recent romance rumors. 
Selena Gomez and EDM DJ Zedd, who are currently collaborating on new music together, continued to fuel speculation that they have indeed coupled up after the 25-year-old music producer took to Instagram to post a shot of the brunette beauty wearing what appears to be a semi-sheer bra while lying in bed. 
The image was taken from the pair's recent video chat (because that's totally what you wear to Skype your pal, right?) and included the caption, "Oh hi derrling..." - The Room #TheRoom #theRoom #THEroom #theROOM." 
Adding further fuel to the fire, the musician also Instagrammed a pic of what appears to be song lyrics, and the 22-year-old singer opted to comment on the photo. The image simply reads, "I want you to know..." and Gomez replied, "That its… :)"
Fans first began speculating that the two are dating after the musical duo was spotted mingling with fellow A-listers at a Golden Globes after-party, where an eyewitness revealed to E! News that the young stars were engaging in "innocent PDA" and holding hands. 
"Selena was in a giddy, excited mood," the party insider said of Gomez, adding that she was "really excited" to talk to her close pal Jennifer Aniston. 
One week later, the "Heart Wants What It Wants" singer, who, as a source recently revealed to E! News is trying to move on from ex Justin Bieber, posted a pic of herself and the producer with a sweet caption. 
"Missing la and this punk, just a little tonight," she wrote. "Shooting starts soon!! Eeeeekkkk –Fundamentals of Caregiving."
While it's unclear whether the two are officially dating, multiple sources have confimed to E! News that Zedd and Selena are working in the studio together—and we can't wait to hear what the pair has been busy recording. 
Named the seventh highest-earning DJ last year by Forbes, Zedd is the mastermind behind Ariana Grande's "Break Free," Lady Gaga's  "G.U.Y," "Clarity" featuring Foxes and even co-produced Bieber's "Beauty and a Beat" (Hollywood is a small town, folks). 
Does this mean Jelena is finally done for good?! 
Hit the comments to weigh in on this potential new couple.