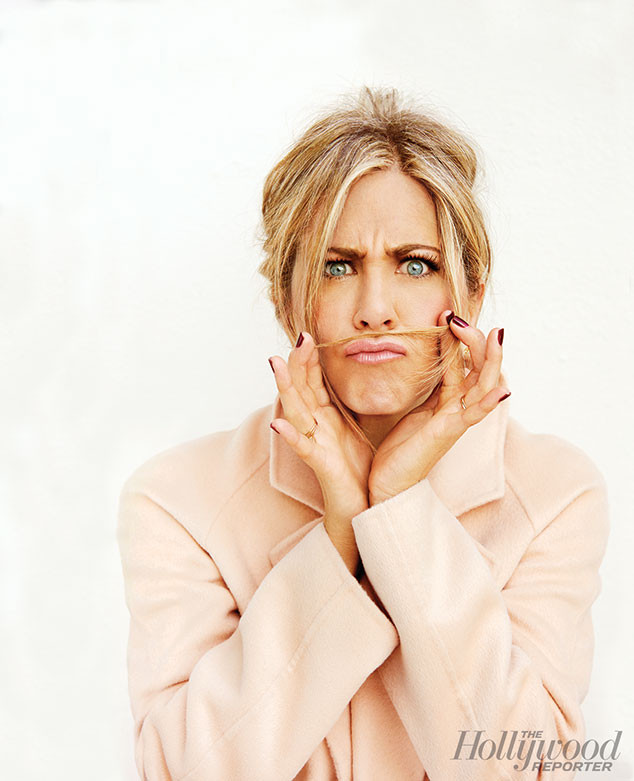 The Hollywood Reporter
Jennifer Aniston has nothing to hide.
The Cake actress doesn't balk when asked about her former marriage to Brad Pitt, nor does she shy away from discussing her fragile relationship with her mother, Nancy Dow. Whether Aniston describes her dyslexia diagnosis or her procreation plans with fiancé Justin Theroux, she bravely and openly shares what she's learned in her 45 years. "I know I have a bigger purpose," the SAG Award nominee says in The Hollywood Reporter's Jan. 30 cover story. "It's a puzzle, and I haven't put it together yet."
As a child, Aniston struggled to relate to her mother. "She was critical. She was very critical of me," she recalls. "Because she was a model, she was gorgeous, stunning. I wasn't. I never was. I honestly still don't think of myself in that sort of light, which is fine." The two became estranged in 1999, after Dow published a memoir about their relationship. They have since reconciled, but it hasn't been easy. "She was also very unforgiving," the actress remembers. "She would hold grudges that I just found so petty."
Forgiveness has often taken a little time for Aniston, who has since made peace with her ex-husband, despite what tabloids claim. "We're not in daily communication. But we wish nothing but wonderful things for each other. Nobody did anything wrong. You know what I mean?" she says. "It was just like, sometimes things [happen]. If the world only could just stop with the stupid, soap-opera bulls--t. There's no story. I mean, at this point it's starting to become—please, give more credit to these human beings."