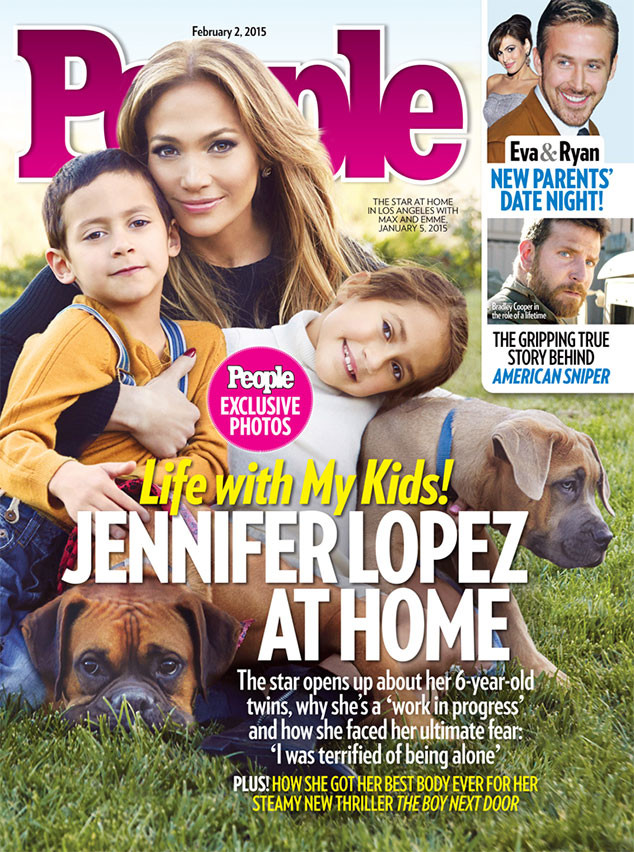 People
For the second time in six years, Jennifer Lopez and her twins, Emme Anthony and Max Anthony, grace the cover of People magazine. And, for the second time, the kids' father, Marc Anthony, is not featured.
This time, however, it makes a bit more sense.
When the twins made their worldwide debut in the publication's March 11, 2008 issue, Lopez was the sole parent to appear on the cover; Anthony, her husband at the time, was shown inside the magazine. The couple called it quits in 2012, their divorce was finalized in 2014, and Anthony has since remarried.
Lopez addresses her ex-husband's absence in the magazine's Feb. 2, 2015 issue. Recalling their breakup, the Boy Next Door actress, 45, explains, "It was awful. But I had to make a commitment to myself to be alone: no flirting. No possibility of anything. No boys in any way, shape or form. I said, 'I'm shutting it down.' I'd never been alone. I grew up sleeping in a bed with my two sisters. When I became famous, I was surrounded by people and always had a boyfriend or a husband or some relationship, one after the other. At night I said to myself, 'You're not working. The kids are asleep. What do you like to do, Jen?' I didn't know. It was always, 'What does he want to do?' It was very eye-opening to me to spend time completely by myself. I was terrified of being alone: The idea that we are alone in this world, we were born alone, we die alone—it sent panic through my body. I said, 'I have to face this fear,' and I did."