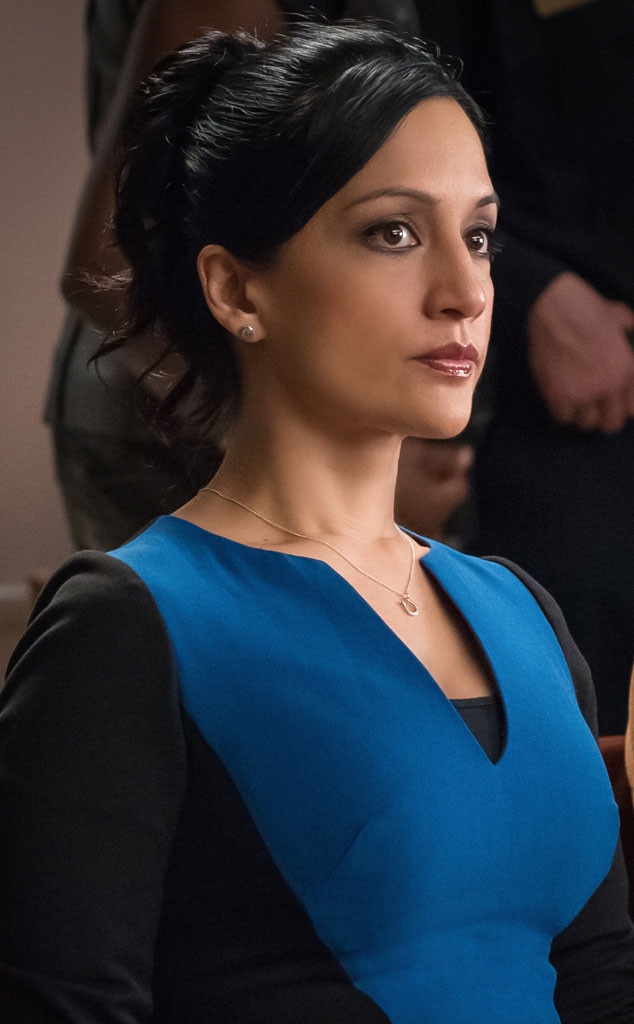 Jeff Neumann ©2014 CBS Broadcasting, Inc.
Apparently kissing Gillian Anderson can change your life. At least that's what The Good Wife's Archie Panjabi said.
Panjabi, who costars opposite Anderson in the BBC/Netflix series The Fall, said her decision to leave CBS's The Good Wife came after a scene in The Fall. Warning, spoilers ahead.
In the third episode of The Fall's second season, Anderson's Stella Gibson kisses Panjabi's Dr. Reed Smith in a bar, seemingly to get a man to stop bothering them. But the next scene is the two of them making their way to Gibson's hotel room until Panjabi's character bails and leaves at the elevator.
"When I was kissing her, Allan Cubitt, the show's creator and director, had to say, 'Archie, can you hold back?' because Gillian was supposed to take me by complete surprise. I didn't think that I was very forward in [the scene], but obviously after a while a character starts to affect you," Panjabi told Radio Times, referring to her Good Wife character, Kalinda Sharma, who describes her sexual orientation as fluid.
"I thought, 'OK, I think it's time to go now,'" Panjabi said regarding her upcoming Good Wife exit.
Panjabi, who has been with The Good Wife since the beginning and won an Emmy for her portrayal of the mysterious investigator, will leave the show at the end of this season. She's already signed a deal with 20th Century Fox to star in a drama pilot.
"Archie is an amazing actress who helped build Kalinda from the ground up as an enigmatic, powerful and sexy character. It's been a pleasure to write for her, and we'll be sad to see her go; but we still have her for the rest of season six, so let's not exhaust our goodbyes yet. We look forward to meeting all the wonderful new characters Archie brings to the screen. But either way, we're keeping the boots," The Good Wife co-creators Robert and Michelle King said in a statement when Panjabi's departure was announced.
Kalinda quickly became a fan favorite on The Good Wife, but in season four a storyline involving her estranged husband alienated fans and derailed the character's trajectory, isolating her from the main story.
The Good Wife returns with new episodes on Sunday, March 1 at 9 p.m. on CBS. Season two of The Fall is currently streaming on Netflix.