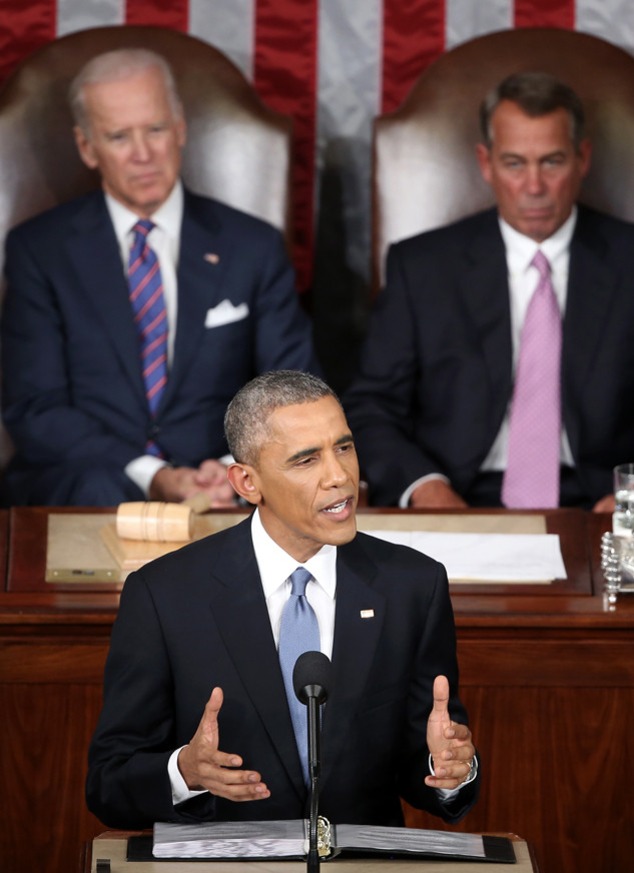 Mark Wilson/Getty Images
The White House made sure that Sen. John Boehner and President Barack Obama's sensible navy suit would get their fair share of attention tonight.
Hours before the commander in chief was set to deliver his 2015 State of the Union address, the White House tweeted out a pic of POTUS' now infamous tan suit with the caption, "The President's suiting up for the big speech...#YesWeTan."
Having missed the initial tweet, forgive us for assuming that the Internet was talking about Boehner, considering his signaturely bronzed visage is easily blending into the leather chairs he and the ever gleeful-looking Vice President Joe Biden sit in while the president speaks.
Let's just say, the White House planted the seed, and #YesWeTan never had any reason to stop trending throughout the SOTU.
Of course, here's only the tiniest of samplings of the tweets that popped up at a record clip as Obama touted the improved strength of the current economy; singled out Rebekah and Ben as the kind of middle-class couple who deserve to thrive in the U.S. (and unwittingly—or wittingly!—turned them into the new "Jack and Diane"); reminded astronaut Scott Kelly to Instagram from his upcoming year in space; and much, much more:
As usual, Patton Oswalt was pretty much live-tweeting the entire speech.