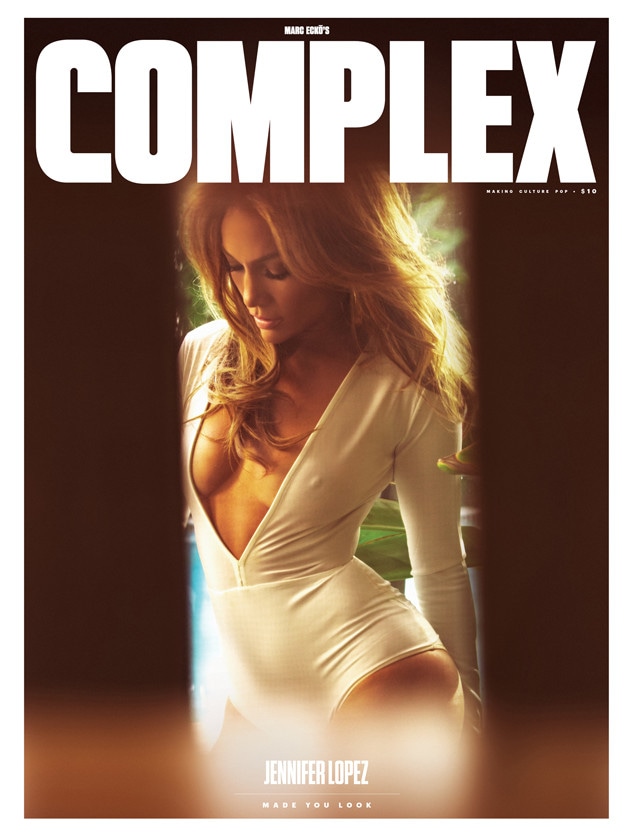 STEVEN GOMILLION/Complex
All hail queen princess J.Lo!
Jennifer Lopez graces the cover of Complex's Feb./March 2015 issue, putting her famous assets on display in a plunging white bodysuit. The 45-year-old singer-actress gets candid with the mag, too, revealing that she views herself "as a brave warrior princess who keeps going, no matter what."
She's undoubtedly worked hard to earn her status as Hollywood royalty, even though from the beginning she "always felt out of place" there. "But the street smarts I had from growing up in New York served me well out here," she says.
The American Idol judge and Boy Next Door star is not about to apologize for her achievements either. "Men get praise when they are successful, like, 'Look how great he's doing,'" she tells Complex. "Women get criticized for some reason. I don't understand it."
J.Lo also doesn't understand why the fact that she's a mom to 6-year-old twins Max and Emme should stop her from dressing or dancing a certain way. "I'm not allowed to be sexy because I'm a mom?" she asks. "It's like, how do you think I got my children?"
"The truth is I don't want to do anything that they would be embarrassed of in the long run," she clarifies. "But at the end of the day, they care more about me being there, taking care of them, than if I'm sexy in a video. And I'm not saying that one day they may not be like, "Mom! Why did you do that?!" [Laughs.] But I don't think that in 10 years I'm going to be doing that either."
So when J.Lo flaunted her curves alongside Iggy Azalea in their "Booty" music video, she didn't feel bad about it. "It felt right," she tells Complex of the collaboration. "It's a good message for women. I'm standing next to this girl who is 24 years old and I'm in my 40s and there's no difference. Women need to see that and feel that. You can't let the fear of what people might say or think stop you from doing what you want to do or else we would never do anything."
Amen!