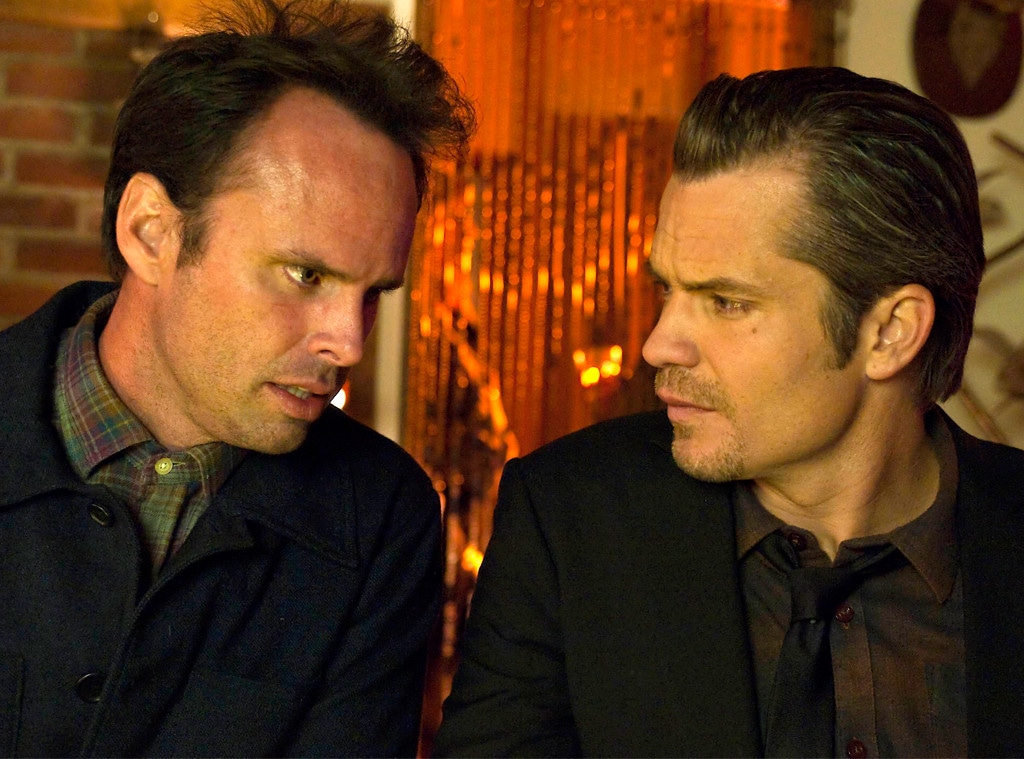 FX
Justified is about to premiere its sixth and final season on Tuesday. There are only 13 episodes of the FX drama left, and the showrunners are about to start planning the 11th episode. 
So one would think that the showrunners would have an idea on how the 13th and final episode of the series is going to go...and yet, during the 2015 Winter TCA Press Tour panel, executive producer Graham Yost revealed that he actually has no idea on how he's going to wrap up the show.
"We absolutely don't know how this is going to end yet," Yost told the room of reporters. "[Executive producer] Fred [Golan] and I have been talking about how to end the thing since about season three and it changes every year."
But Yost revealed that the decision to end Justified came about a while ago. 
"Tim [Olyphant] and I started talking about this in season four and we just felt like if this chapter is about Raylan and Boyd [Walton Goggins], we could only take the story so far," Yost said. "We didn't want to outstay our welcome."
Olyphant may not know how his titular character is going to end up by the finale, but he does promise that fans will be in tears. Lots and lots of tears. 
"It's going to be depressing," Olyphant said. "We're setting you up. But we thought [late author] Elmore [Leonard] would like it. He's never ended his books where you're really crying, so we thought that's what we would do."
How does Olyphant want Justified to end?
"On a high note," Olyphant told E! News after the panel. As for what that "high note" looks like: "I don't know. When I see it, I'll know."
Is Olyphant prepared to say goodbye to his onscreen alter ego Raylan after six years?
"All I'm prepared for is I'm unempoloyed in a few weeks and I'm going to have to take some s--tty a-- f--king jobs," Olyphant said with a laugh. "All the jobs I've said no to in the past few years I'm going to have to take. F--k!"
While Yost and Golan had plenty of time to plan out the final season, Yost warned that they didn't bring back many fan-favorite characters just to have them return for nostalgia.
"If the story presents itself, there are characters we're bringing back," Yost said. "We didn't want this to be the greatest hits but that said, there are characters that come in because they're part of that world. It doesn't just feel like we're checking that box."
Justified's sixth and final season premieres Tuesday at 10 p.m. on FX.