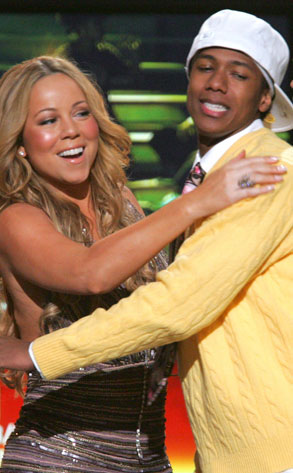 John Shearer/WireImage.com
Mariah Carey and Nick Cannon aren't just dreamlovers anymore.
Family member Linda Cannon has confirmed to E! News that the couple are, in fact, married.
"Yes, we know," she says. "He called us and told us all about it. We are happy for him. If that is what he wants then we are happy for him."
Linda Cannon wouldn't confirm an earlier report that had the impromptu nuptials taking place yesterday at Carey's new home in the Bahamas, only that Nick and his platinum-selling girlfriend have made it official.
"I'm not going to give you any details, but we are happy for him."
Earlier today, a rep for jeweler Jacob & Co. confirmed that Cannon shelled out $2.5 million for the 17-carat finger candy spotted recently on Carey's left hand.
This is the second trip down the aisle for Carey, 39. She split from recording-industry honcho Tommy Mottola in 1998 after five years of marriage.
Cannon, 27, was previously engaged to model Selita Ebanks, but this is his first time taking the plunge.