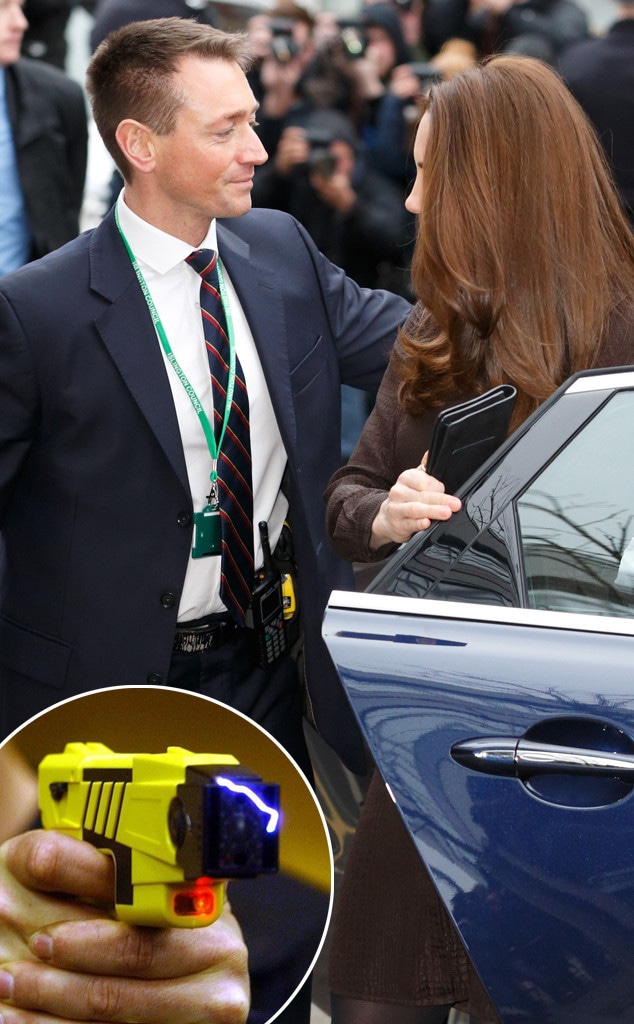 Mark Cuthbert/UK Press via Getty Images; AP
Kensington Palace is taking every precaution to make sure Kate Middleton and Prince William are protected.
The United Kingdom's terror threat level has been raised from "substantial" to "severe" in response to conflicts in Iraq and Syria, Home Secretary Theresa May recently said, and therefore, the security surrounding the Duke and Duchess of Cambridge has been heightened.
Middleton paid a visit to The Fostering Network's headquarters in London Friday, where she met with foster caregivers, children and staff, and it became very noticeable that there were more guards than usual.
Furthermore, her Scotland Yard bodyguards, including those in plain clothes, were seen wearing the stun guns for the first time.
Mark Cuthbert/UK Press via Getty Images
In a photo showing one of her guards helping Middleton out of the car, you can get a glimpse of the bright yellow taser hanging on his belt inside of his jacket.
Until recently tasers had reportedly only been used by officers guarding royal grounds or guards who were on mobile patrol, but a new directive recommended that firearms officers should also be given "less lethal weapons."
In addition to the stun guns, security was also carrying their usual firearms and appeared to be wearing stab vests.
Regardless, the pregnant princess was all smiles for the occasion, looking every bit the yummy mummy in a chic brown dress with a belted bow tied around her waist.
Inside The Fostering Network, Prince George's mum sat down for tea and snacks with the kids and adults involved in the program. The newly launched Kensington Royal Instagram account posted several pictures of the duchess, including one in which she was presented with a "Memory Box" to help her remember her time there.
According to the pic's caption, children in foster care are encouraged "to keep photographs and other items in a box as keepsakes to help them remember their positive experiences with their various foster families."
Love all things royal? Check out E!'s new series The Royals, starring Elizabeth Hurley and premiering in March 2015.