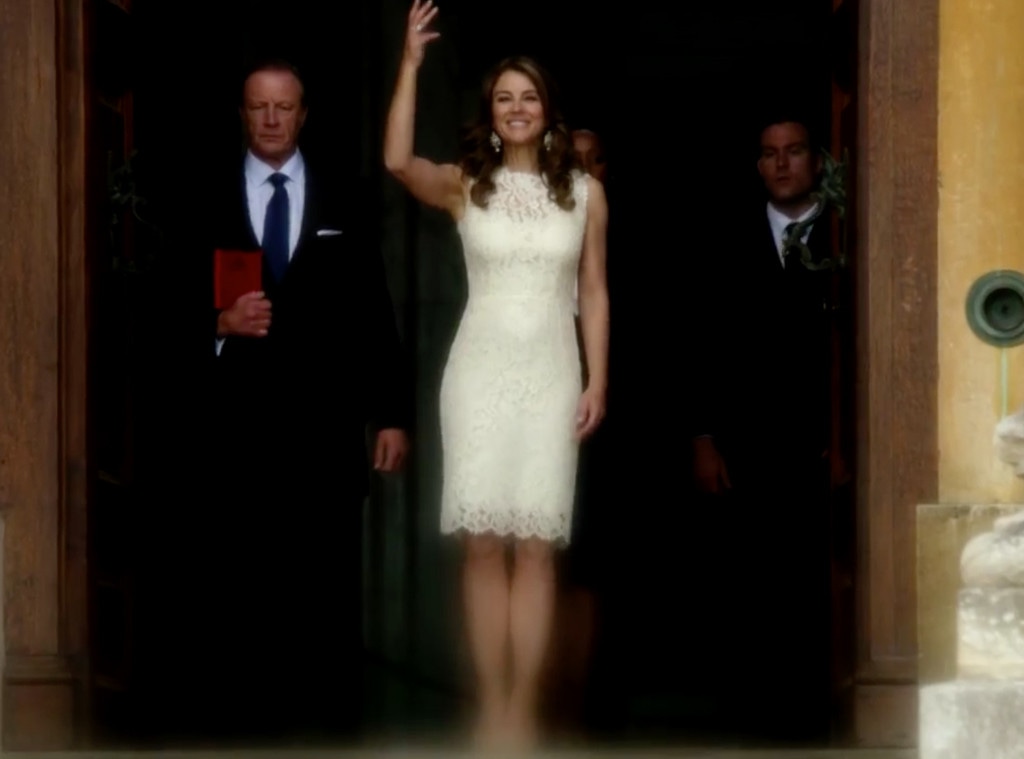 E! Entertainment
Your newest TV obsession comes from across the pond, as E!'s first scripted series The Royals offers an inside look at the cheekiest, most scandalous family in all of Britain...who just so happens to be the royal family. 
But are all the sex, drugs and shenanigans inspired by the real royal family?
If you ask The Royals star Elizabeth Hurley, there's certainly a grain of truth in her portrayal of the fictional Queen Helena—though she also compared her character to Cruella de Vil!
"I thought to myself when I got this part, what would it be like if Princess Dianabecame the Queen of England?" Hurley said at the 2015 Winter TCA Press Tour. "I took my inspiriation from her. But then of course, what we never got to see with Princess Diana was what went on behind the closed doors...Mark [Schwahn] gave us a lot of it, some of it we picked from Cruella de Vil, the Disney character, and the rest I added in."
But creator Schwahn (the brilliant mind behind One Tree Hill) revealed that The Royals is truly a work of fiction.
"It's a family drama. It's about a family, and it just happens to be a royal family," Schwahn said. "And it's a fictional family that just happens to be in a real world. It's a royal family, not the royal family."
And that's definitely a good thing, since Hurley's character is not exactly a...good person.
"Elizabeth has been very brave in approaching the more villainous aspects of the charcter," Schwahn said. "I was working with Elizabeth on wardrobe and she asked, 'Why not add in bits of fur? I think the queen should wear bits of cruelty once in a while.'"
According to Schwahn, most of the characters on The Royals are going to be walking a fine line between "good" and "bad."
"When it comes to TV, there are heroes and there are villains but rarely are we rooting for the villains," Schwahn said. "It's great on this show because sometimes the heroes are the villains and vice versa. These characters are pretty human and sometimes they're on the better side of things and sometimes they fall short."
And it's those scenes when the characters "fall short" that are going to be instant favorites. Becausing there's nothing more hilarious than watching the Queen of England say "FML!"
The Royals premieres Sunday, March 15 at 10 p.m. on E!