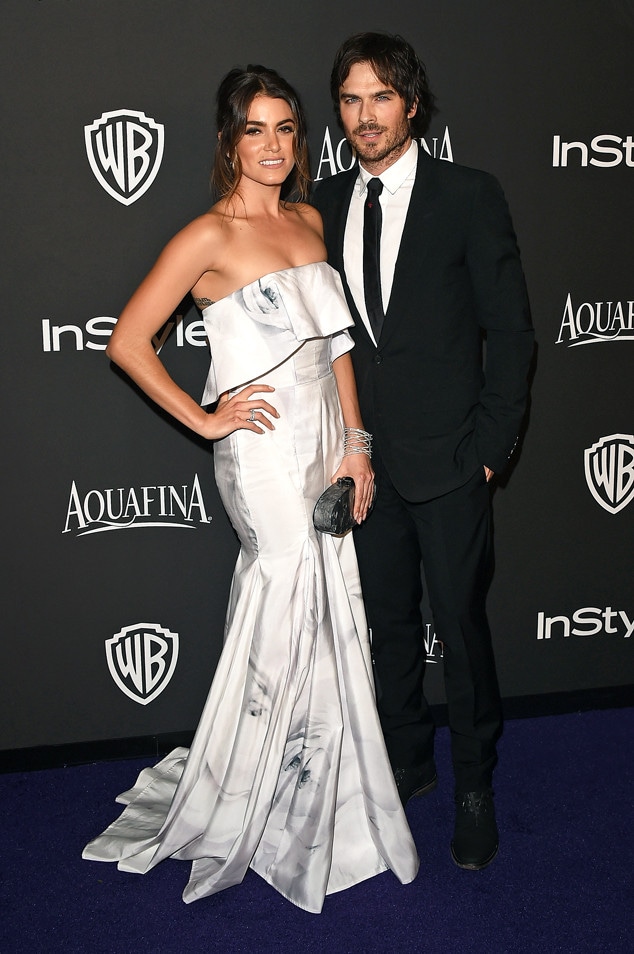 Jason Merritt/Getty Images
Ian Somerhalder and Nikki Reed are bride and groom to-be!
The 36-year-old Vampire Diaries star and the 26-year-old Twilight star are engaged, multiple sources confirm exclusively to E! News. The exciting engagement comes about six months after they first started dating.
The engagement isn't a surprise to insiders close to the couple. One source says that Somerhalder told Reed he had "been in love with [her] for years," long before they took their friendship to the next level. "They're so happy," the source tells E! News. "They were crazy happy from the start. Their families love each other. It just feels really right."
Reed and Somerhalder first sparked romance rumors when they were spotted getting their PDA on in July at an L.A. farmers market.
Since hooking up, the lovebirds have adopted several animals together. In August, they proved they were getting serious by adopting a horse named Eagle. "Proud new dad... What amazing creatures they are. Wow. His name is Eagle. Thank you @iamnikkireed for snapping this special moment, with our big baby boy," Somerhalder wrote on Instagram at the time with a photo of their new family member.
Two months later, the duo adopted a precious kitten. Reed announced the adoption on Instagram, writing, "Went to the animal shelter today to give some love to the babies living in cages and don't have homes and ended up adopting the little girl! What should we name her?"
They also recently started their own production company together. "Nikki and I are starting a production company and we're going to be able to tell even more stories that we really want to tell, everything from documentaries to TV shows to movies...all kinds of stuff," Somerhalder told E! News just this week. "Having the success of a television show like [Vampire Diaries] really allows you to be able...now I get to start spreading my creative wings as well."
"It's going to be awesome," the hunky star added of their joint project. "Listen, it's about telling stories and it's about creating the content to tell those stories and whose going to distribute that content."
Reed was previously married to American Idol's Paul McDonald. They separated in March 2014 after two years of marriage. As for Somerhalder, he famously dated his TV co-star Nina Dobrev for several years before they broke up in mid-2013.
—Reporting by Holly Passalaqua