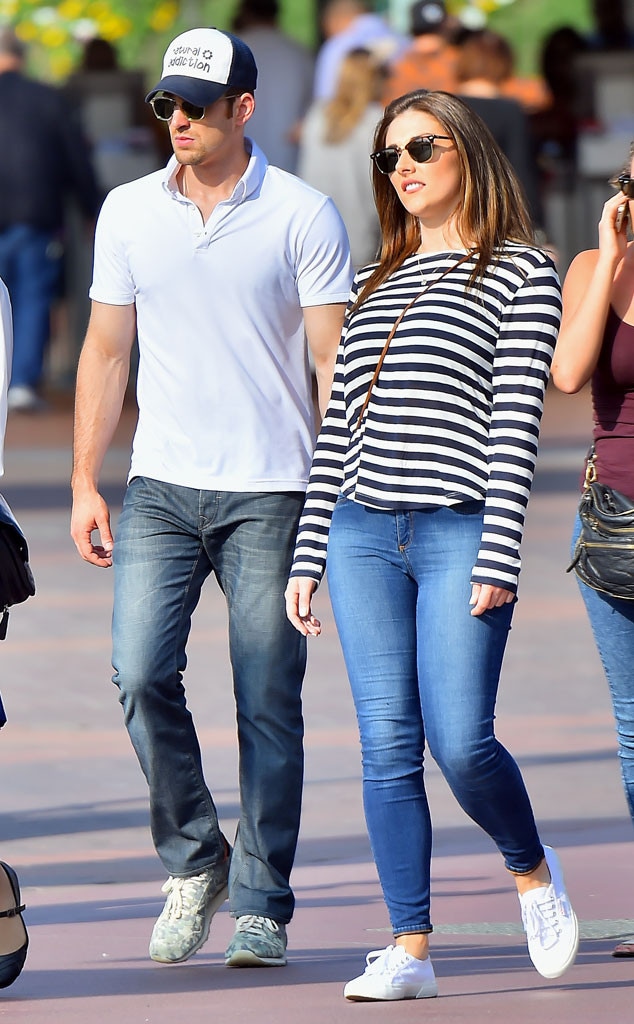 Fern / Splash News
Aaaand a million hearts just broke.
Chris Evans was spotted at Disneyland with a mystery woman, enjoying a thrilling ride on Grizzly Rapids. Their excited facial expressions just go to show why the theme park is appropriately called, "The Happiest Place on Earth." Both dressed casually in jeans, the duo, who seemingly appeared on a date, looked like they were having a great time as they made their way through the park.
Captain America might have put his superhero qualities on hold for the date, as he looked just as frazzled as she while on the giant round tube!
An eyewitness tells E! News that they were with two other couples, and it looked like a triple date. Evans and his mystery woman were not overly romantic, but according to the source, they stayed close the entire time! Like many celebs, they had Disneyland ushers escort them around the park, which allowed them to jump all lines (ugh, so jealous). 
Although it could have been the happiest "date" on Earth, Evans and his gal-pal did not purchase any souvenirs, but they did ride Big Thunder Mountain, Pirates of the Carribean and the Grizzly River Run. Sounds like a full day at the park!
Evans used to be linked to Minka Kelly, but they broke it off after two failed attempts. We have to say the Avengers: Age of Ultron star must have a type because this brunette beauty kind of resembles the Friday Night Lights actress. And at one point he was also connected with his childhood crush, Sandra Bullock!
The actor has been stealing hearts a lot recently, with his handsome looks and his chivalrous attitude. He and Betty White were seated next to each other at the People's Choice Awards, and when she was named Favorite TV Icon, Evans was one of the two gentlemen who helped her onto the stage! Swoooooooooon.
See, chivalry isn't dead! It just is found at award shows with 92-year-old iconic actresses.
* Sigh *
—Reporting by Michelle Falls