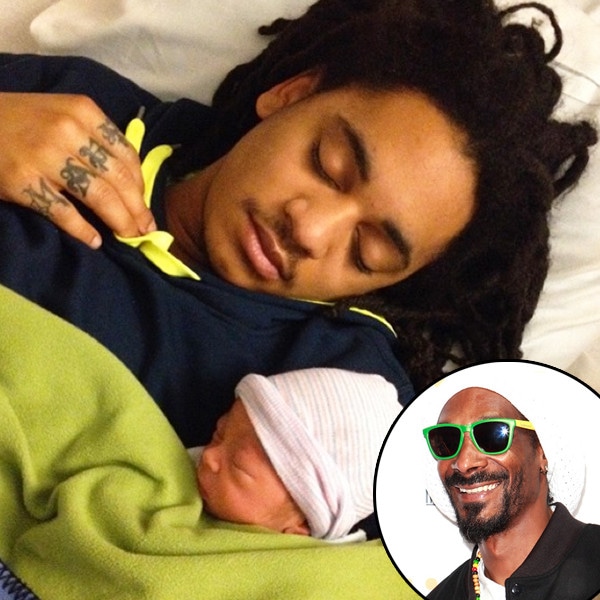 Instagram
The Doggfather is a grandfather!
Snoop Dogg's eldest son Cordé Broadus, 20, whose nickname is "Spanky Danky," and his girlfriend, Jessica Kyzer, recently welcomed their first baby, a son named Zion. This is the first grandchild for the 43-year-old rapper, who also shares two younger children, son Cordell Broadus, 17, and daughter Cori Broadus, 15, with wife Shante Broadus.
Cordé shared a sweet pic of himself cuddling his baby, wrapped up in a lime green and periwinkle fleece blanket (see above).
"Iron Lion ZION," he wrote.
Snoop, whose real name is Cordozar Broadus, Jr. and who had in the past used the stage name Snoop Lion, regrammed an Instagram video of his newborn grandson that was posted by Cordé.
"Proud grandad (sic)," he wrote. " My son spank n grandson Zion !! Jah bless."
"Happy EarthDay Zion," Cordé said. " #RastafarianLions #ThankYouJessica #1Love."
Proud grandma Shanta is seen holding the child in another photo and Snoop both posted.
"My First Born @1lovesociety Gave Me My First #Zionkalvin #Mamatae," she wrote.
Snoop had adopted the additional stage name Snoop Lion in 2012 following a visit to Jamaica and just before he released a reggae album. He had said at the time that he was embracing the music genre to make music that his "kids and grandparents can listen to."
Zion, a Hebrew word, is the biblical term for the promised land and for Rastafarians, it also means heaven. Celebrities such as Lauryn Hill, American Idol alum Fantasia Barrino and NBA star Dwyane Wade also have children named Zion.
Zion was born early, according to Broadus and Kyzer's baby registry, which had listed Jan. 23 as her due date. Among their coveted gifts were several animal toys and animal-themed blankets, as well as a white "Z" wall decoration.