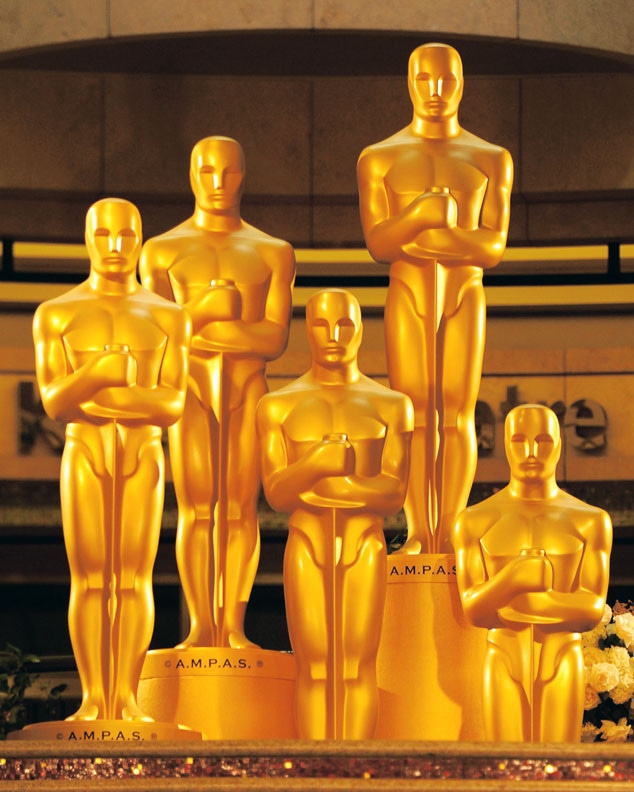 Frazer Harrison/Getty Images
Star Wars: The Force Awakens director J.J. Abrams, Gravity director Alfonso Cuarón and Into the Woods actor Chris Pine announced the nominees for the 87th Annual Academy Awards live from the Samuel Goldwyn Theater in Beverly Hills, Calif., Thursday, Jan. 15. Joined by Academy of Motion Picture Arts and Sciences president Cheryl Boone Isaacs, the famous trio revealed which actors, animators, directors, screenwriters and more are being recognized this year.
The Oscars will be broadcast live from Hollywood's Dolby Theatre on Feb. 22 at 7 p.m. ET.
Neil Patrick Harris will host the ceremony, which will be televised in more than 225 countries.
Neil Meron and Craig Zadan also produced the show for ABC in 2012 and 2013.
Harris' writing team includes Dave Boone, Tim Carvell, Derek DelGaudio, Liz Feldman, Paul Greenberg, Paula Pell and Mason Steinberg. "It is truly an honor and a thrill to be asked to host this year's Academy Awards. I grew up watching the Oscars and was always in such awe of some of the greats who hosted the show," Harris, 41, said in a statement. "To be asked to follow in the footsteps of Johnny Carson, Billy Crystal, Ellen DeGeneres and everyone else who had the great fortune of hosting is a bucket list dream come true." In a joint statement, Meron and Zadan explained their decision to hire the Gone Girl star, saying, "We are thrilled to have Neil host the Oscars. We have known him his entire adult life, and we have watched him explode as a great performer in feature films, television and stage. To work with him on the Oscars is the perfect storm, all of his resources and talent coming together on a global stage."
The nominees' luncheon will be held on Feb. 2.
Final voting begins Feb. 6, and polls close on Feb. 17 at 5:00 p.m. PT.
The Scientific and Technical Achievement Awards presentation will take place on Feb. 7.
Read on for the complete list of 87th Annual Academy Awards nominees:
Best Picture
American Sniper
Birdman
Boyhood
The Grand Budapest Hotel
The Imitation Game
Selma
The Theory of Everything
Whiplash
Best Actor
Steve Carell, Foxcatcher
Bradley Cooper, American Sniper
Benedict Cumberbatch, The Imitation Game
Michael Keaton, Birdman
Eddie Redmayne, The Theory of Everything
Best Actress
Marion Cotillard, Two Days, One Night
Felicity Jones, The Theory of Everything
Julianne Moore, Still Alice
Rosamund Pike, Gone Girl
Reese Witherspoon, Wild
Best Supporting Actor
Robert Duvall, The Judge
Ethan Hawke, Boyhood
Edward Norton, Birdman
Mark Ruffalo, Foxcatcher
J.K. Simmons, Whiplash
Best Supporting Actress
Patricia Arquette, Boyhood
Laura Dern, Wild
Keira Knightley, The Imitation Game
Emma Stone, Birdman
Meryl Streep, Into the Woods
Cinematography
Birdman
The Grand Budapest Hotel
Ida
Mr. Turner
Unbroken
Costume Design
The Grand Budapest Hotel
Inherent Vice
Into the Woods
Maleficent
Mr. Turner
Directing
Alejandro González Iñárritu, Birdman
Richard Linklater, Boyhood
Bennett Miller, Foxcatcher
Wes Anderson, The Grand Budapest Hotel
Morten Tyldum, The Imitation Game
Foreign Language Film
Ida, Poland

Leviathan, Russia
Tangerines, Estonia
Timbuktu, Mauritania
Wild Tales, Argentina
Makeup and Hairstyling
Foxcatcher
The Grand Budapest Hotel
Guardians of the Galaxy
Original Score
Alexandre Desplat, The Grand Budapest Hotel
Alexandre Desplat, The Imitation Game
Hans Zimmer, Interstellar
Gary Yershon, Mr. Turner
The Theory of Everything
Jóhann Jóhannsson, The Theory of Everything
Adapted Screenplay
American Sniper, Jason Hall
The Imitation Game, Graham Moore
Inherent Vice, Paul Thomas Anderson
The Theory of Everything, Anthony McCarten
Whiplash, Damien Chazelle
Original Screenplay
Birdman, Armando Bo, Alexander Dinelaris Jr., Nicolás Giacobone and Alejandro González Iñárritu
Boyhood, Richard Linklater
Foxcatcher, E. Max Frye and Dan Futterman
The Grand Budapest Hotel, Wes Anderson and Hugo Guinness
Nightcrawler, Dan Gilroy
Animated Feature Film
Big Hero 6
The Boxtrolls
How to Train Your Dragon 2
Song of the Sea
The Tale of the Princess Kaguya
Documentary Feature
Citizenfour
Finding Vivian Maier
Last Days in Vietnam
The Salt of the Earth
Virunga
Documentary Short Subject
Crisis Hotline: Veterans Press 1
Joanna
Our Curse
The Reaper (La Parka)
White Earth
Film Editing
American Sniper, Joel Cox and Gary D. Roach
Boyhood, Sandra Adair
The Grand Budapest Hotel, Barney Pilling
The Imitation Game, William Goldenberg
Whiplash, Tom Cross
Original Song
"Everything Is Awesome," The Lego Movie, Shawn Patterson
"Glory," Selma, John Stephens and Lonnie Lynn
"Grateful," Beyond the Lights, Diane Warren
"I'm Not Gonna Miss You," Glen Campbell: I'll Be Me, Glenn Campbell and Julian Raymond
"Lost Stars," Begin Again, Gregg Alexander and Danielle Brisebois
Production Design
The Grand Budapest Hotel, Adam Stockhausen and Anna Pinnock
The Imitation Game, Maria Djurkovic and Tatiana Macdonald
Interstellar, Nathan Crowley and Gary Fettis
Into the Woods, Dennis Gassner and Anna Pinnock
Mr. Turner, Suzie Davies and Charlotte Watts
Animated Short Film
The Bigger Picture
The Dam Keeper
Feast
Me and My Moulton
A Single Life
Live Action Short Film
Aya
Boogaloo and Graham
Butter Lamp
Parvaneh
The Phone Call
Sound Editing
American Sniper, Alan Robert Murray and Bub Asman
Birdman, Martin Hernandez and Aaron Glascock
The Hobbit: The Battle of the Five Armies, Brent Burge and Jason Canovas
Interstellar, Richard King
Unbroken, Becky Sullivan and Andrew DeCristofaro
Sound Mixing
American Sniper, Walt Martin, John Reitz and Gregg Rudloff
Birdman, Frank A. Montano, Jon Taylor and Thomas Varga
Interstellar, Gregg Landaker, Gary A. Rizzo and Mark Weingarten
Unbroken, Frank A. Montano, David Lee and Jon Taylor
Whiplash, Thomas Curley, Craig Mann and Ben Wilkins
Visual Effects
Captain America: The Winter Soldier, Dan DeLeeuw, Russell Earl, Bryan Grill and Dan Sudick
Dawn of the Planet of the Apes, Joe Letteri, Dan Lemmon, Daniel Barrett and Erik Winquist
Guardians of the Galaxy, Stephane Ceretti, Nicolas Aithadi, Jonathan Fawkner and Paul Corbould
Interstellar, Paul Franklin, Andrew Lockley, Ian Hunter and Scott Fisher
X-Men: Days of Future Past, Richard Stammers, Lou Pecora, Tim Crosbie and Cameron Waldbauer