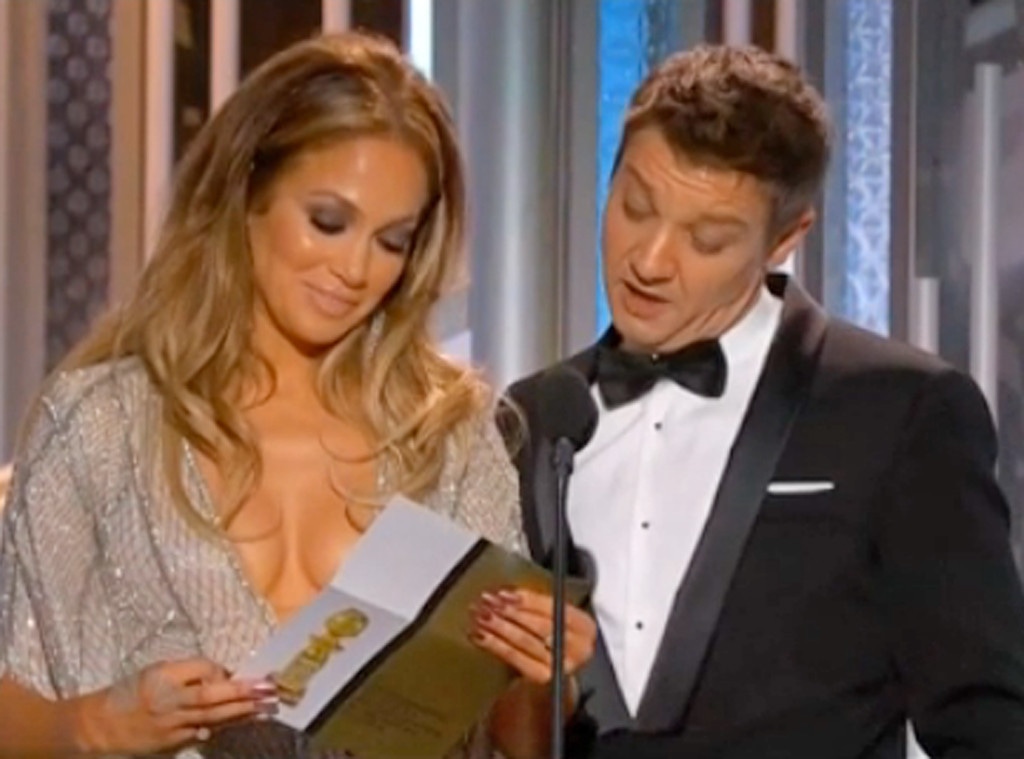 NBC
If you tuned into the Golden Globes last night then presumably, you caught more than one glimpse of Jennifer Lopez's crazy cleavage. 
The 45-year-old beauty, who seemingly only gets better with age, wowed in a dazzling Zuhair Murad dress that left little to the imagination, particularly in the boob department, at the 72nd annual ceremony, where Jeremy Renner couldn't help but comment on J.Lo's eye-catching ensemble when the two took the stage to present the award for Best Actor in a TV Miniseries or Movie. 
"Oh, you want me to open it?" Lopez asked of the envelope. "I've got the nails."
Renner responded, "Yeah, you've got the globes, too."
Jason Merritt/Getty Images
While the comment was seemingly meant in jest, the Twitterverse was not happy about The Bourne Legacy star's cleavage crack with some slamming the quip as both "tactless" and "inappropriate." 
Of course, it didn't take long before Renner caught wind of the criticism and he took to the social media site to defend his remarks while urging viewers to lighten up. 
In spite of the fact that the joke didn't go over well with some, the American Idol winner took the comment in stride—and even seemed a bit flattered. 
"That was really funny," J.Lo told E!'s Marc Malkin last night after the show. "He's a very funny man. It even made me a little hot."
Wonder what Renner would have to say about the singer's sexy after-party dress?! 
Frederick M. Brown/Getty Images