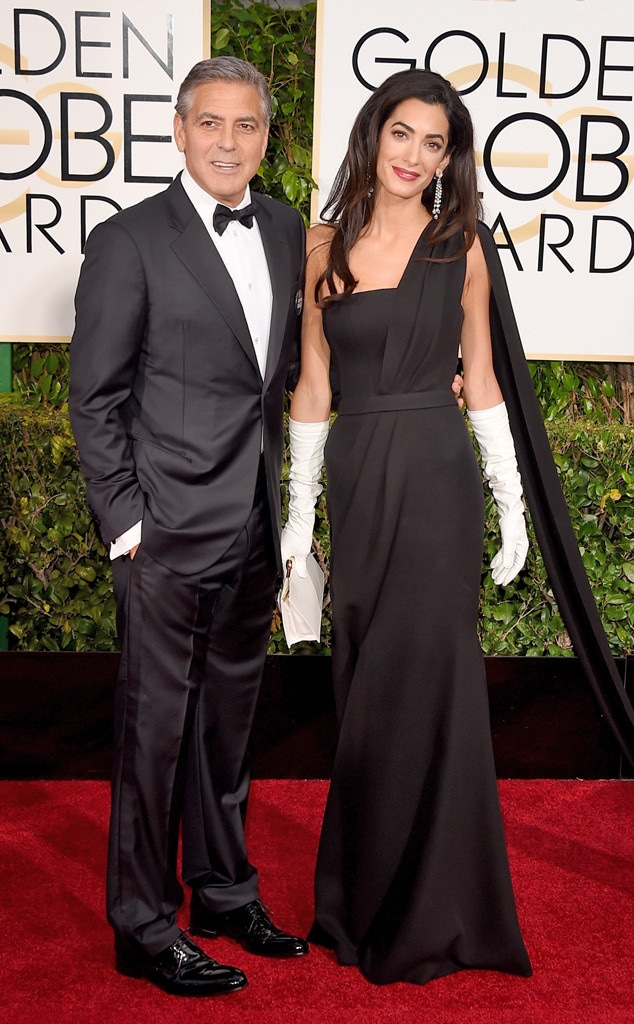 Jason Merritt/Getty Images
Amal Clooney was the most talked-about plus one at the Golden Globes!
The 36-year-old barrister looked lovely as ever in a Dior Haute Couture dress, Harry Winston jewelry and her own gloves at Sunday's event. "She sewed them this morning," George Clooney joked. "She's very handy." In all seriousness, he revealed, "As long as she doesn't get the train stepped on, I've succeeded."
So, did George succeed in protecting her gown on the red carpet?
"He's been really good—really helpful," Amal assured E! News.
Later that evening, George revealed his wife had only settled on her look the night prior.
"I was talking with Don Cheadle [about this]—guys just have it so much easier. It's honestly not fair," the 53-year-old Monuments Men star told the pressroom. "Amal was looking at dresses last night still, trying to figure out what she was going to wear and I was watching the football game. It was 2 o'clock this afternoon we were still watching the ball game. It's not fair to women at the award show, but it's nice."
George added, "I'm wearing my wedding tux."
(Who could blame him for wearing the look twice? Designed by Giorgio Armani, the actor's ultra-fine wool/cashmere blend suit was a made-to-measure with George's name specially stitched into the label.)
Watch:
2015 Golden Globes Fashion Round Up!
As Golden Globes co-hosts Tina Fey and Amy Poehler pointed out earlier that night, Amal is much more than just arm candy. "Amal is a human rights lawyer who worked on the Enron case, was an adviser to Kofi Annan on Syria and was selected for a three-person commission investigating rules of war violations in the Gaza strip," Fey said. "So, tonight her husband is getting a lifetime achievement award."
The audience bellowed with laughter, but one laughed harder than George himself.
When he received the Cecil B. DeMille Award, he said, "It's a humbling thing when you find someone to love—even better when you've been waiting your whole life. And when your whole life is 53 years, Amal, whatever alchemy it is that brought us together, I couldn't be more proud to be your husband."