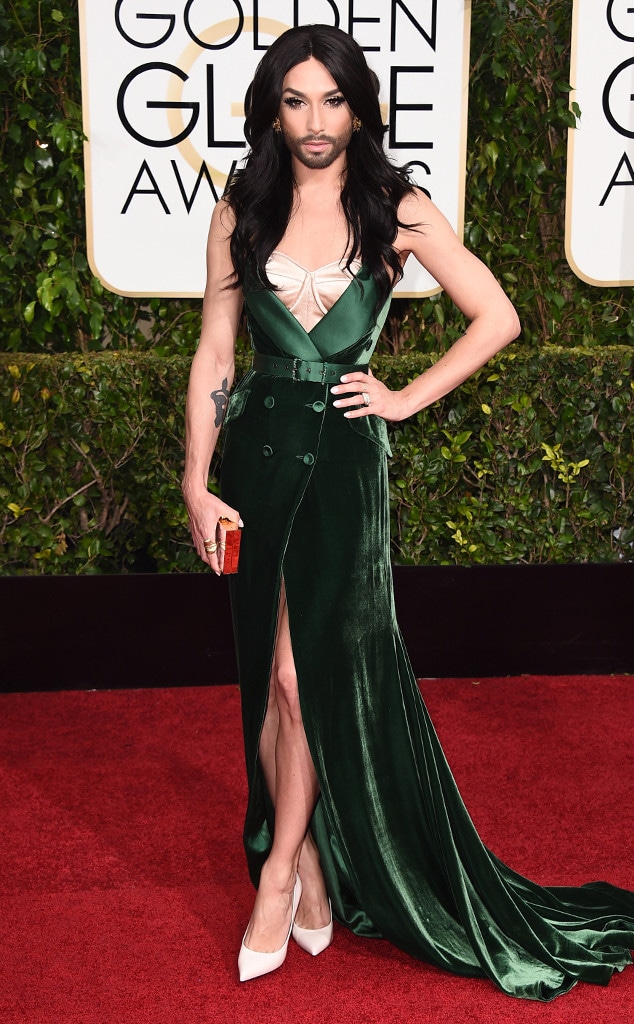 Jordan Strauss/Invision/AP
Forget about the gowns and all the fabulous bling. Let's talk about the facial hair!
Heads definitely turned when Conchita Wurst stepped onto the 2015 Golden Globes red carpet in a forest green gown.
But while the dress is what most viewers tend to look at during award shows, our eyes went straight to her face that just so happened to have a beard.
"Always try to see behind the curtain," she tweeted Sunday morning.
So who is this woman making a serious statement on the carpet? 
As it turns out, she is a successful Austrian singer and artist who has over 870,000 fans on Facebook.
Behind the beard, Wurst really wanted to share an important message with her fans and followers.
"The Golden Globes are an event that brings the glamour of Hollywood into living rooms across the planet," she wrote on her social media sites. "But let's not forget the events like this are also a strong showcase of the diversity and seriousness in entertainment as an art form."
She added, "Recent events in Europe have shown that freedom is speech is under attack. Let's unite and keep on with our unstoppable fight for peace and freedom—and freedom of expression."   
For more fashion talk, watch Fashion Police Monday night at 9pm ET/PT only on E!