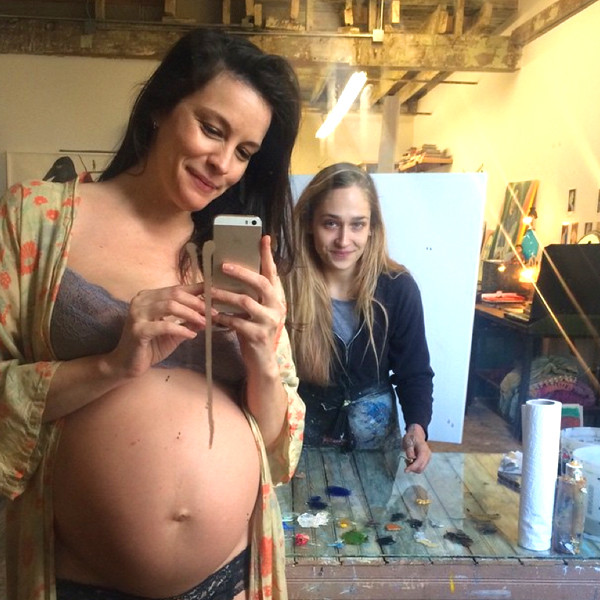 Instagram
As many moms know, being pregnant can prove to be the best of times and the worst of times.
But when it comes to Liv Tyler, the actress wants to make sure she remembers the highs and lows way before she gives birth. As a result, the Lord of the Rings alumna came up with a clever idea to commemorate her journey.
As she eagerly waits for the birth of her second child, the 37-year-old decided to ask a close friend to paint a portrait of her baby bump. Paging Girls star Jemima Kirke! Somebody needs your help.
"So fun to be painted by a friend!!!!" Tyler shared on Instagram while posing in lingerie and a floral cover up. "@rafaizzy Brooklyn ny"
She added, "Beautiful talented special totally 1 of a kind dear friend Jemima Kirke @rafaizzy painting me!!!!!!"
Her father, Steven Tyler, regrammed the picture and added, "HEY WHAT'S IT GONNA BE... GIMME A HINT MAYBE? NOTHING IN THIS WORLD THAT I LIV FOR MORE THAN MY BABY'S BABY... @misslivalittle."
While the final product has yet to be revealed—it is a special gift after all—we can only imagine how stunning the painting turned out.
As Liv continues to prepare for her next arrive, the actress is more than willing to admit being pregnant isn't the worst thing in the world. In fact, she pretty much enjoys the experience.
"It's fun not being on a diet or thinking, 'Oh my god, I have to go to SoulCycle every day,'" she told Town & Country. "The most fun thing about being pregnant again is having those mom hormones flowing around. You're more present in your body, and it's making me a better mother for Milo."
And with a hit series under her belt (shout-out to The Leftovers), the actress feels like she has nothing to complain about.
"I mean, for seven years I'd been saying I wanted to do an HBO show with an ensemble cast. And I wanted a house in the country. And getting to have another child? If you knew me well, they were the things my heart longed for," she explained to the publication. "And they all came together, like a speeding freight train, in one year."
You're a lucky (and beautiful) lady! Enjoy the weeks ahead, girl!