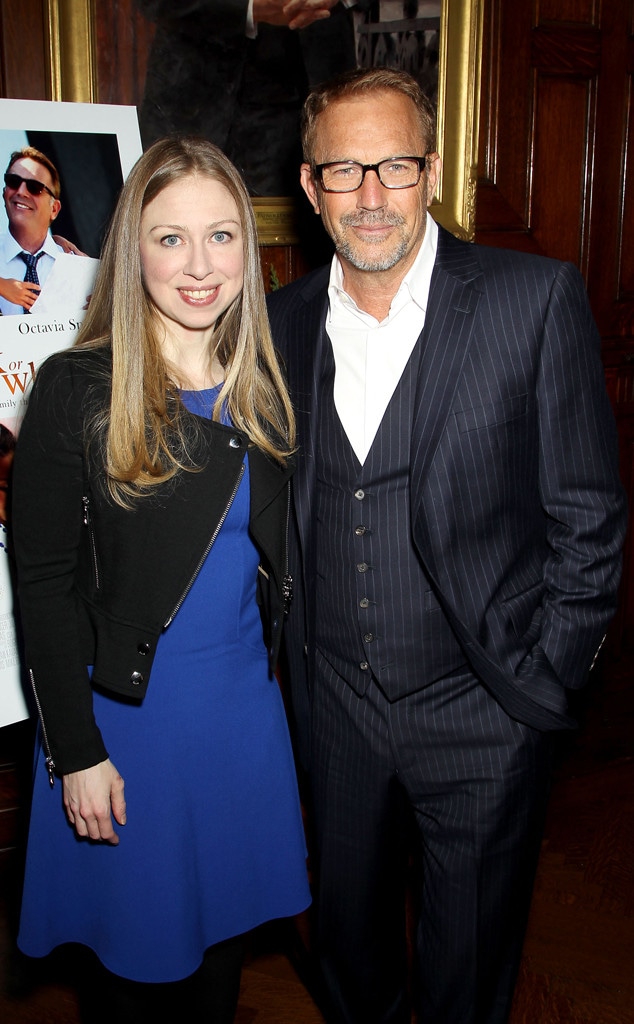 Marion Curtis/Startraksphoto.com
Mommy had a night out!
Chelsea Clinton had a star-studded night away from hubby Marc Mezvinsky and the couple's 4-month-old baby girl Charlotte on Wednesday night in order to attend a dinner hosted by film production company Relativity Studios.
Clinton—who stunned in a bright blue frock, black leggings and motorcycle jacket that flaunted her trim post-baby figure—was joined by celebs Kevin Costner, Octavia Spencer and Anthony Mackie for the event, which was held in celebration of the studio's upcoming film release Black or White.
Marion Curtis/Startraksphoto.com
Clinton and Mezvinsky welcomed their first child together on Sept. 26, 2014. "Marc and I are full of love, awe and gratitude as we celebrate the birth of our daughter, Charlotte Clinton Mezvinsky," she tweeted at the time.
And during a Twitter Q&A through the Clinton Foundation recently, the former first daughter shared a brief but sweet message with fans about her and husband's adorable addition.
One fan asked Clinton via the social networking site, "Congrats @ChelseaClinton on motherhood! What are ways you're ensuring Charlotte & you are healthy in her first #1000days? #MaternalHealth."
She replied, ".@ThousandDays Ensuring we're both following drs' advice. Grateful 2 have this precious time w Charlotte & that she is a healthy baby! – CCM."
And, of course, famous grandpa Bill Clinton is absolutely enamoured with his granddaughter, "who so far is in the 95th percentile in size for her age—she is a remarkable young woman," he exclaimed.
So precious.