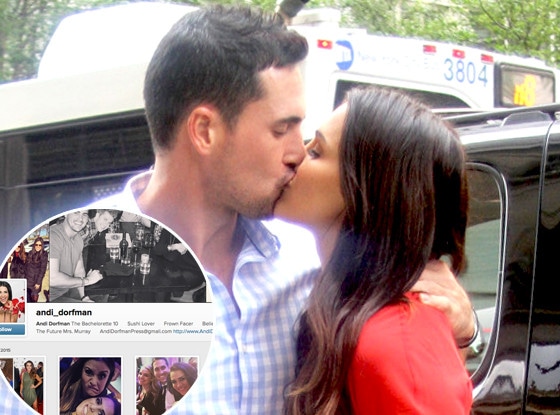 Jose Perez/PacificCoastNews/Instagram
Andi Dorfman and Josh Murray may have broken up, but you wouldn't know it from The Bachelorette star's Instagram profile...yet, anyway.
As of Friday morning, her bio still contains the words, "The Future Mrs. Murray."
Dorfman, a 27-year-old former assistant district attorney from Georgia, and Josh, a 30-year-old former minor league baseball player originally from Florida, had announced on Thursday that "after several months of being engaged and working on our relationship, we have decided that it's best for both of us to go our separate ways."
The news was revealed three days after the flagship dating reality show The Bachelor began its 19th season on ABC. Before the episode, the network aired a red carpet premiere featuring several engaged and married couples from the franchise, including Dorfman and Josh, who looked cozy and were all smiles as they chatted with host Chris Harrison.
At the red carpet premiere, Harrison referenced engaged Bachelor in Paradise pair Marcus Grodd and Lacy Faddoul and joked to Dorfman and Josh that they should "get in the queue."
"I know, right?" she replied, smiling and rubbing her hand up and down Murray's back.
"I know, we gotta get on the ball, right?" he added.
"I feel like once you start [wedding] planning, though, there's no stopping!" Dorfman had told Harrison at the red carpet premiere. "So I've gotta like, really be ready to plan and he's gotta really be ready to taste the food and drink all the wine."
"Oh, I'm ready to drink the wine and taste the food," Josh replied. "You know I can eat!"
In October, Dorfman and Murray attended three bridal events, including the Martha Stewart Wedding 20th Anniversary Party, The Knot Gala and the Mark Zunino for Kleinfeld wedding dress fashion show at New York City's Kleinfeld bridal salon, where the hit show Say Yes to the Dress is filmed.
Kleinfeld Fashion Director Terry Hall had said in a statement that month that the shop was "so honored" to offer Dorfman "guidance and bridal expertise," adding, "She found the man of her dreams, now it's all about finding the dress of her dreams!"
After their engagement, the pair appeared together in many photos posted on Dorfman and Josh's Instagram pages, showing them doing all sorts of cute, normal couple things.
Here they are having drinks on the plane to Los Angeles before the premiere...
...riding in a car on the way to the premiere...
...posing for a holiday card...
...at a family get-together in Kansas City...
...cheering on the Kansas City Chiefs (Josh's brother Aaron Murray is one of the team's quarterbacks)...
...hanging out with Josh's brothers and Andi's then-future sisters-in-law (as seen on Aaron's Instagram page)...
...all bundled up at a charity run...
...getting into all sorts of crazy hijinks on Halloween...
...having fun at a bowling alley...
...showing off Dorfman's massive engagement ring in a selfie...
(A sparkler that got its own close-up back in July...)
...hanging out on the field at a University of Georgia football game...
...hanging out on the field at Dodger Stadium during a the Ping Pong 4 a Purpose charity event, hosted by Harrison and benefitting Dodgers star pitcher Clayton Kershaw and his wife Ellen Kershaw's Kershaw's Challenge organization...
...and getting to hang out with Dodgers catcher A.J. Ellis and ABC talk show host Jimmy Kimmel...
...turning up the cuteness factor with an adorable dog...
...and generally, just acting like a fun-loving, normal couple.
"Wow, I'm totally shocked that Andi Dorfman and Josh Murray from The Bachelorette have broken up!" said no one ever.

? jenna nolan (@yeahitsmejenna) January 8, 2015
So shocked Andi Dorfman and Josh Murray split. Jk I called that before the season finale of the bachelorette.

? Kathleen Flood (@datkathy) January 9, 2015
"Andi and Josh of The Bachelorette lied to your face, America," read a headline in The Washington Post.
ABC and the former couple has not commented.