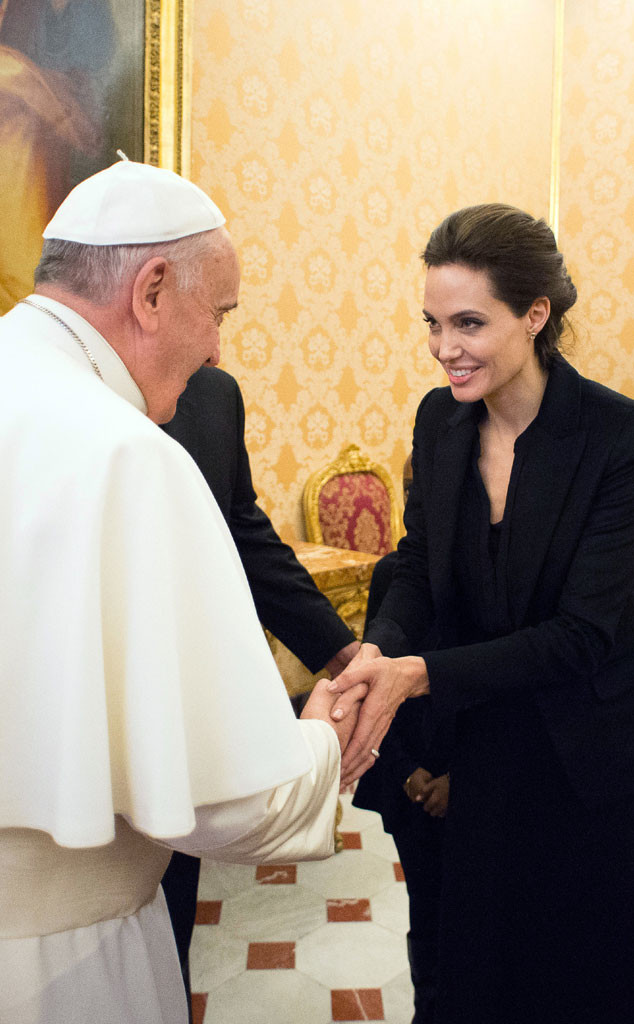 AP Photo/L'Osservatore Romano, Pool
Angelina Jolie just received an honor of a lifetime (no, it wasn't an Oscar...yet).
The A-list actress traveled to the Vatican this week not only to host a screening of her buzzworthy film Unbroken, but also to meet Pope Francis while she was there. By her side throughout the trip was Luke Zamperini, the son of her film's subject, Louis Zamperini.
"To be invited to screen Unbroken at The Vatican is an honor and a tribute to Louie's legacy as a man of faith and someone who exemplified the power of forgiveness and the strength of the human spirit," Jolie said in a statement obtained by E! News. "These are universal themes at the heart of the human experience everywhere."
Jolie also brought along her oldest two daughters, Shiloh Jolie-Pitt and Zahara Jolie-Pitt, to the tiny state. According to Business Insider, Jolie met the 78-year-old pontiff in the throne room at the papal palace. She brought along her children, her brother and an interpreter.