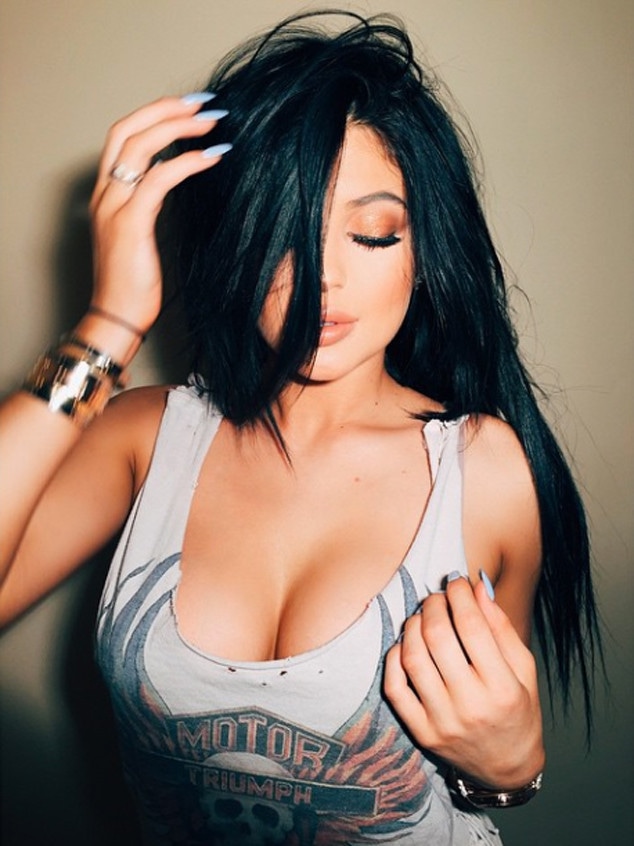 Instagram
My, what nice...um, nails you have, Kylie Jenner.
Although the 17-year-old's manicure is on point (literally), it's very obvious that the young brunette beauty wanted all eyes on one specific thing in this photo. Well, two specific things.
Kylie flaunted some major—like, major—cleavage in one of her latest photo posts on Instagram that definitely caught the attention of her millions of fans. The photo features Kylie looking down while seductively posing in a low-cut motorcycle tank top.
And while the snap seems to be from a professional shoot, Jenner didn't offer any details behind the picture besides writing, "Secret Projects" and tagging makeup artist and friend Joyce Bonelli.
Kylie recently shot down any plastic surgery rumors during an interview with Cosmopolitan magazine for their latest issue.
"You guys have watched me grow up since I was 9. My face is going to get different. Now, I know how to do my makeup, contour, and everything. I'm not against surgery. I'd never say no, but I don't desire it right now," she tells the mag.
The young reality star also spoke about love. "It's crazy, but every time I'm in a new relationship, I feel like, okay, this is definitely love," she confessed. "Then I get in my next relationship, and I'm like, no, this is it!"
She didn't mention anyone by name (ahem, Jaden Smith), but she did confirm her "last relationship lasted almost three years."
"I don't want to say [I've been in love] twice, but so far I've had two really strong infatuations," she added, and also mentioned that if a guy "does one little thing to me," he'll find himself "dealing with, like, six other girls."
Boom.
 Keeping Up With the Kardashians returns Spring 2015!