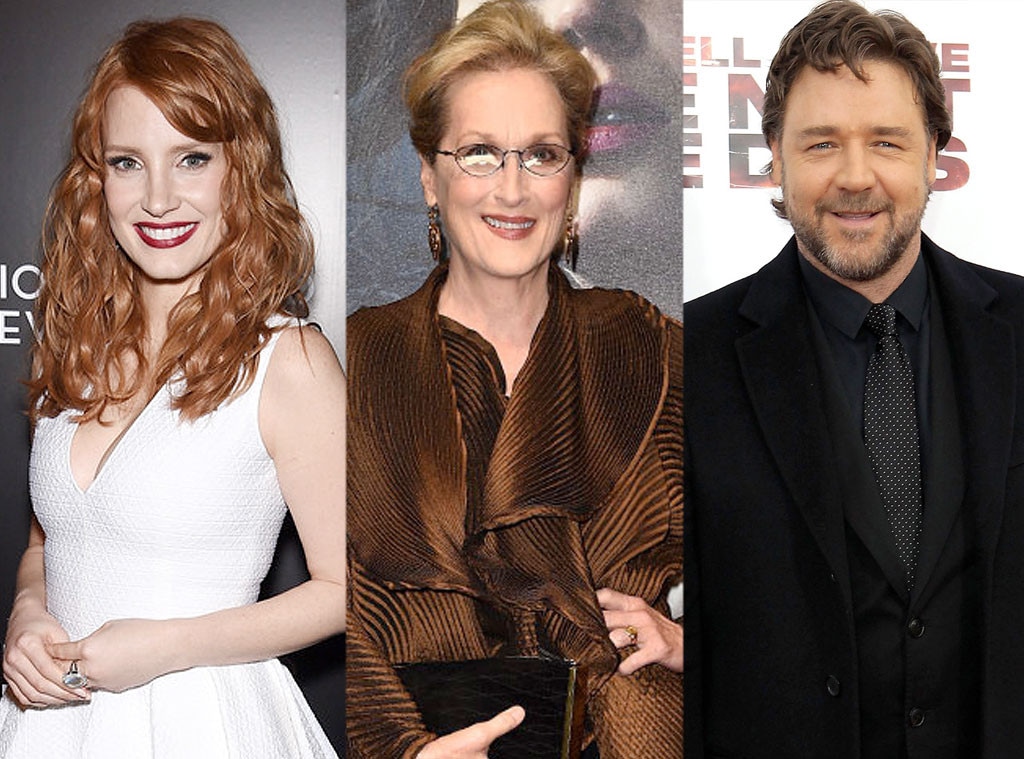 Getty Images
Russell Crowe "keeps getting his foot stuck in his mouth," says Jessica Chastain, in response to recent comments he had made in an interview about actresses above the age of 40 and the perceived availability of roles for them.
However, fellow actress Meryl Streep has said she agrees with his remarks.
The 50-year-old Oscar-winning Gladiator actor had told the publicationThe Australian Women's Weekly in comments published on Dec. 22 that he thinks that the type of woman who says good roles have dried up for her is "the woman who at 40, 45, 48, still wants to play the ingénue [innocent, girl-next-door type], and can't understand why she's not being cast as the 21-year-old."
"I think Russell keeps getting his foot stuck in his mouth," Cosmopolitan magazine quoted Chastain, a 37-year-old Oscar nominee, as telling reporters at the 2014 National Board of Review Awards Gala in New York on Tuesday, while laughing. "There are some incredible actresses in their 50s and 60s that are not getting opportunities in films, and for someone to say there are plenty of roles for women that age ... [that] is not someone who's going to the movie theater."
Dimitrios Kambouris/Getty Images
In his interview with The Australian Women's Weekly, Crowe had also said, "Meryl Streep will give you 10,000 examples and arguments as to why that's bullsh-t, so will Helen Mirren, or whoever it happens to be." He had also added that he "can't be the Gladiator forever."
Speaking to the U.K. newspaper The Telegraph, Streep weighed in on Crowe's remarks about Hollywood actresses.
"I agree with him," the outlet quoted the three-time Oscar winner as saying. "It's good to live in the place where you are."
Streep also told The Telegraph that when she was 40, she turned down three separate roles as witches. Now, at age 65, she can be seen portraying one in the new musical film Into the Woods. She told the newspaper that part of the reason for her change of heart was because she "felt it was age appropriate."
The ages of Chastain's movie roles have varied. In 2013, the U.K. newspaper The Independent quoted her as saying, "I will never say my age because I'm an actress, and I want to play different ages."
She was nominated for Oscars for her roles as a kind-hearted young socialite in the The Help and a CIA agent in Zero Dark Thirty. The actress also played a younger version of Mirren's Israeli spy character in the 2010 movie The Debt and Pitt's wife and the mother of their three sons in the 2011 film The Tree of Life.
"I don't like revealing how old I am," The Telegraph quoted Chastain as saying in 2011. "I played a teenager in a movie recently and Brad Pitt's wife in another, so I like to think I can be any age I need to be."