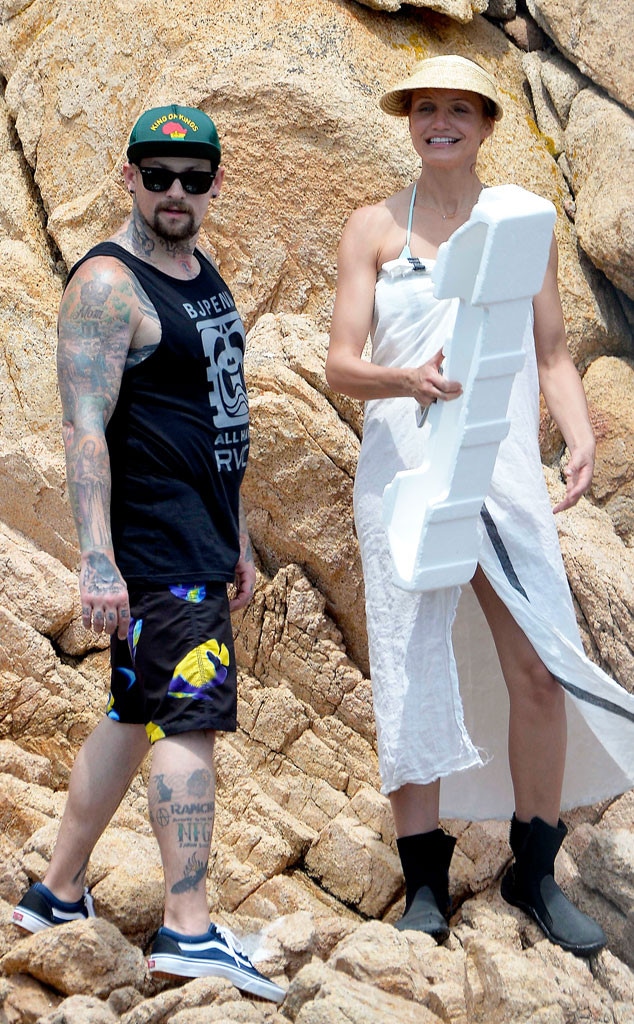 CIAO/AKM-GSI
After a fast relationship and even faster engagement, Cameron Diaz and Benji Madden are officially husband and wife! The couple wed Monday night at Diaz's Beverly Hills Home in "an intimate ceremony at their home in Los Angeles," their rep confirmed to People.
We heard that about 100 people gathered to celebrate the Good Charlotte rocker and his actress wife's nuptials, which took place inside the house. After the ceremony, people gathered inside a massive white tent in the Sex Tape's star's yard.
"We couldn't be happier to begin our new journey together surrounded by our closest family and friends," the couple told the magazine.
Madden, 35, popped the question to Diaz, 42, just days before Christmas, so it looks like they wanted to start the New Year off with a bang! We heard about the ceremony only hours before it took place, so secrecy was definitely their M.O. A source told E! News that Madden's sister-in-law, Nicole Richie, and Diaz's BFF, Drew Barrymore, served as bridesmaids.
Gwyneth Paltrow and producer Jeffrey Katzenberg were also among the guests spotted arriving, which also included Barrymore's husband Will Kopelman. He arrived separately from his wife because she was probably getting ready for the ceremony!
The pair celebrated their rehearsal dinner over the weekend at Diaz's pad as well.
If Diaz's wedding comes as a surprise, you're not alone. The Charlie's Angels actress has put down lifelong monogamy before, previously telling InStyle that people tend to "chase" marriage.
"A lot of people chase after it because they've been told, 'This equals happiness.' They chase it, they get it, and they find out, 'Why did I think this was going to make me happy? I'm miserable!'" she shared, adding: "I don't know if anyone is really naturally monogamous. We all have the same instincts as animals. But we live in a society where it's been ingrained in us to do these things."
Apparently it only takes one to change her mind! Despite having dated Justin Timberlake, Alex Rodriguez and Jared Leto, the star seems to have found The One in Madden.
Congratulations again to the happy couple!