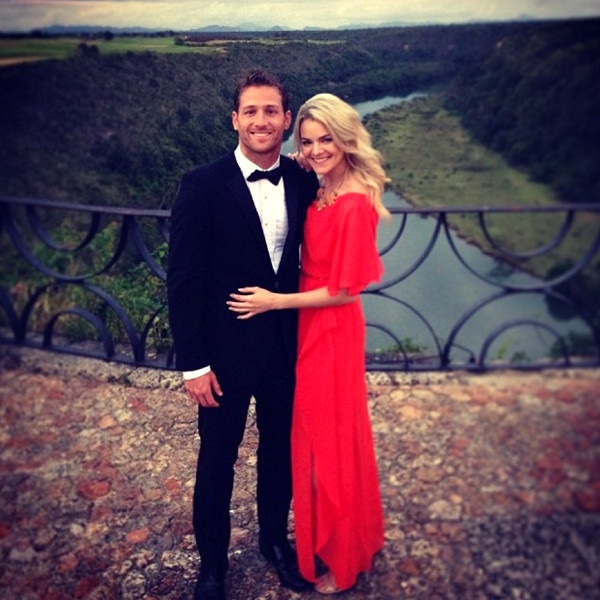 Instagram
Nikki Ferrell has returned to The Bachelor family.
Last season, Nikki and Juan Pablo Galavis were at the center of one of the most controversial After the Rose ceremonies in the franchise's long history, with host Chris Harrison even calling it "odd" and "unsatisfying." Why? Juan Pablo refused to say if he loved Nikki...while sitting next to her. 
But Nikki and Chris' live reunion during The Bachelor Season 19's premiere event on Monday night was anything but odd, as Nikki opened up about her recent split from Juan Pablo, including whether or not the Venezuelan single father ever said those three little words during their relationship. 
"He did, absolutely," Nikki revealed. "There was a point where we said we loved each other, like a normal relationship."
Alas, it wasn't enough for Nikki.
"There was a while where I did feel like he was totally in love with me. Was it too late? Probably," she said. "I think at that point I had come to the conclusion that we were different people and we were never going to be on the same page."
But Nikki said the pair did everything they could to try and make their relationship work before calling it quits. "I wasn't going to quit. I'm not a quitter. I tried everything, he tried, too. It wasn't just a one-side thing....we real-life tried, not TV-tried." The whole "TV-tried" part is referring to their couple's stint on VH1's Couples Therapy. 
Seth Browarnik/WorldRedEye.com
And despite the backlash he received during and after his season aired, Nikki insisted Juan Pablo is "a good person" saying, "He's so caring...He's a good person, I don't have anything bad to say. It's just a difference of lifestyles. He cared so much about me and my family and he's a good person, he really is."
But their "different lifestyles" and the distance between them (She is based in Kansas City while Juan Pablo lives in Miami) ultimately became too much to overcome, Nikki said. "At the end of the day, we gave it a go, but we're two different people." 
As for how she's doing now, Nikki said she has no regrets about her time with Juan Pablo. "I'm actually doing really great. I'm really happy."